Director Johan Schot is in Colombia this week (17 September 2015) to officially sign an agreement between SPRU and the Government's Department of Science, Technology and Innovation (Colciencias) that will support Masters and PhD students to study at Sussex.
Through this agreement, Colciencias will sponsor a number of Colombian students to study at SPRU from 2016, subject to satisfying the standard admissions procedures.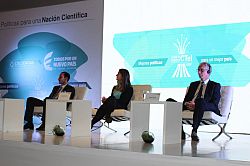 "On behalf of SPRU and the University, I am delighted to visit Colombia this week to sign this important agreement with Colciencias. Through our courses and supervision of PhD students, we are excited to help train the next generation of policy makers and academics to lead science technology and innovation policy in Colombia", said Professor Schot.
This agreement builds on the Letter-of-Intent signed between SPRU and Colciencias, in May this year, and is one part of a series of negotiations between the two organisations on potential areas of collaboration including joint research activities.
As part of the visit, Professor Schot, who is also joined by SPRU's Dr Matias Ramirez, will deliver a keynote address on 'The Future of Innovation Policy" and will meet with a number of senior representatives of Colciencias to learn more about the opportunities and challenges facing STI in Colombia.
See press articles:
Discussing Science in Colombia (Semana)
Colombia will strengthen science policy (El Tiempo)
SPRU has an extensive track record of working with partners around the globe. As part of our expanding outreach, SPRU hosted a delegation of the Taiwanese Government this week for a training day with SPRU's academics that was specifically tailored to their policy needs.