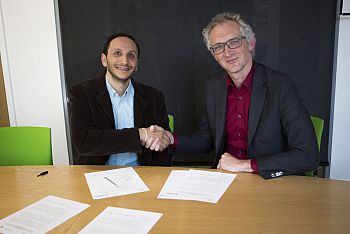 SPRU, the Science Policy Research Unit, this week (21st May) signed a new co-operation agreement with the Government of Colombia's Department of Science, Technology and Innovation (Colciencias).
The letter of intent details planned cooperation to strengthen Colciencias's science, technology and innovation policy design and evaluation unit. It outlines areas of collaboration, training, mentoring and mutual learning and provides exciting opportunities for joint working both on new research projects and the development of innovation policy.
On signing the agreement Alejandro Olaya Davila, Deputy Director of Colciencias, said: "We recognize that SPRU is the leader in the world for science policy. In Colombia right now we are developing a new national science and innovation policy. We want to do this with the best organisation in the world to help improve our system in Colombia".
SPRU has an outstanding track record working with partners across the globe, combining world leading academic research and practical policies. It has long-standing expertise on Latin America, and the agreement deepens its relationship with Colciencias, the main actor in Colombia on science, technology and innovation policy.
Professor Johan Schot, Director of SPRU said; "The world is currently in a period of deep transition, requiring structural changes to deal with the big challenges of today. At SPRU we are working on ideas for the next generation of innovation policies, focused on promoting sustainable and inclusive innovation. We are delighted to be working with Colciencias, and hope this agreement paves the way for a long-term relationship that will see us develop our ideas together."
Colciencias has already funded several students to come to SPRU at both Masters and PhD level, and is expanding its options for graduate training with the School of Business Management and Economics, where SPRU is based. Prof Michael Davies, Pro Vice-Chancellor for Research at Sussex and Professor Steven McGuire, Head of the Business, Management and Economics School, both witnessed the agreement.
Alejandro Olaya Davila added; "We have a scholarship programme and we want more students to come to SPRU to study an MSc or PhD and then return to Colombia to work to develop our science and technology systems".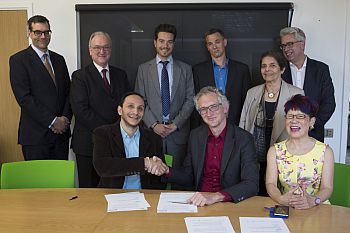 Attendees as the meeting to discuss the collaboration also included Johan Schot, Alejandro Olaya Davila, Beatriz Majia (Minister Counsellor at the Colombian Embassy), Professor Gordon MacKerron, Professor Ben Martin, Dr Puay Tang, Dr Matias Ramirez and Carlota Perez (Honorary Professor). Initial proposals for joint working include: inclusive innovation, policy evaluation, foresight, and the development of a regional network on science policy.
Carlota Perez, an expert in the social and economic impact of technical change and SPRU Honorary Professor, said: "Latin America is facing new opportunities that will require well informed technology and innovation policies. This agreement between SPRU and Colciencias will benefit Colombia and can serve as a template for other countries in the region. I think it's a very welcome development for both institutions."
See also:
Look before you leap: how to prepare for the next big economic transition – Johan Schot in The Conversation
Towards a new theory of innovation – Johan Schot in Times Higher Education