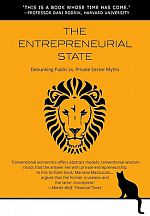 In her book, Professor Mariana Mazzucato debunks myths about the role of the state in innovation by providing detailed case studies exploring the leading role that the State has played in generating innovation and economic growth in modern capitalism.
The book has received outstanding reviews. 'The Entrepreneurial State' has been the subject of an editorial by Teresa Tritch, specialist in economic issues and tax policy at The New York Times. Jeff Madrick's review in the New York Review of Books states that it is 'one of the most incisive economic books in years', and it has also received a glowing review from Martin Wolf in the Financial Times, in which he calls the book "A brilliant exploration of new ideas in business [that] argues that government is behind the boldest risks and biggest breakthroughs".
In her book, Mazzucato asks who will fund the next technological wave, with many new companies paying so little tax? This very point was taken up by NIH Director Francis Collins, in his speech at the US Senate Committee on Appropriations. In his speech on the necessary funding for biomedical research Collins cited Mazzucato's book, specifically referring to the impressive reviews it has received from the financial press, and have concluded 'that there is a strong economic case for the federal government's role as the US economy's indispensable entrepreneur'.
For more information:
US Senate, Committee on Appropriations: Driving Innovation Through Federal Investments
America's Underappreciated Entrepreneur: The Federal Government
Innovation: The Government was crucial after all
Professor Mariana Mazzucato's website