The Nexus Network announces applications selected for funding in response to the thinkpiece call of June 2014.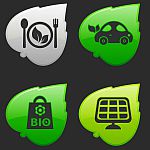 The selected thinkpieces will tackle issues from the governance of the nexus; energy, food and water security in West Africa; impact investing; fast-moving circular goods; citizen science and imagining a sewerless society.


Professor James Wilsdon, Nexus Network Director says:
"We were delighted by the responses we received to this call – with 139 applications in total – and impressed by their quality, breadth and diversity. We originally planned to fund ten projects, and I am pleased that we have been able to push this up to thirteen in total, reflecting the quality of the proposals we received. This is a crucial first step as we start to build the Nexus Network community. The next call, for pilot projects, will be issued in late November."
The successful thinkpieces are:
The bottom-up approach to energy, food and water security in West Africa. Subhes Bhattacharyya, Nicola Bugatti, Hannes Bauer.
Imagining a sewerless society. Ben Martin, Peter Cruddas, Paul Hutchings.
How can we ensure the better use of organic waste materials for food, energy production and water use in Sub-Saharan Africa? Euan Phimister, Jo Smith, Paul Hallett, Pete Smith, Hilary Homans, Anke Fischer.
Governance of the nexus: from buzz words to strategic action. Christian Stein, Jennie Barron, Timothy Moss.
Competing demands for land. Maria Sharmina, Claire Hoolohan, Alice Bows-Larkin, Paul Burgess, James Colwill, Paul Gilbert, David Howard, Jerry Knox, Kevin Anderson.
Systems thinking in environment-people science. Kit Macleod, Mags Currie, Sue Morris, Kate Irvine, Jose Munoz-Rojas.
Services and Slums: rethinking infrastructures and provisioning across the nexus. Tatiana Thieme, Eszter Kovacs.
Nexus technologies, urban circulation, and the co-production of water-energy. Joe Williams, Stefan Bouzarovski, Erik Swyngedouw.
Fast Moving Circular Goods 2025. Fiona Charnley.
How can Impact Investing integrate a Nexus Approach? Frederik Dahlmann.
Exploring the Nexus through citizen science. David Slawson, Roger Fradera.
Approaches to knowledge co-production at the food, water, energy, and environment nexus. Frances Harris.
How a self-organised science community can help deliver sustainable intensification for agriculture in the UK. Andy Whitmore, Sue Hartley.
For the full details of successful applications see the Nexus Network website.


Thank-you to everyone who took part in this call: we had 139 high quality applications from academics, policy and business organisations, both in the UK and from around the world.

The selected thinkpieces will be published at our 27 November 2014 conference and will be available on the website shortly afterwards.

More information on our next call for funding will be released in the Autumn.