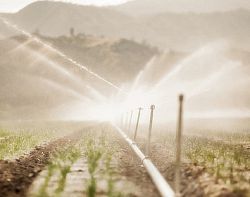 In the past five years, there has been a surge of interest in the idea of the 'nexus', as a way of thinking about the interdependencies, tensions and trade-offs between food, water and energy security, in the broader context of environmental change. These systems are inextricably linked, and integrated approaches are required, which move beyond sectoral, policy and disciplinary silos.
To better coordinate UK research efforts in this area, on the 9th June 2014 the ESRC launched The Nexus Network, committing £1.8 million of funding to The Nexus Network over the next three years. It is directed by Professor James Wilsdon, SPRU, the University of Sussex, in partnership with the University of East Anglia and the Cambridge Institute for Sustainability Leadership.
The Nexus Network will foster debate, innovative research and practical collaborations across the linked domains of food, energy, water and the environment. Participation in the network is open to researchers from all disciplines, and to decision makers in government, business and civil society.
The core aims of The Nexus Network are:
To encourage debate, fund innovative research and improve decision making across the linked 'nexus challenges' of food, energy, water and the environment;
To support interdisciplinary, cross-sector collaborations between social and natural scientists working on nexus topics, and between academic researchers and those in government, business and civil society engaged in these debates;
To enable researchers and stakeholders in business, policy and civil society to develop and share new methodologies, data, conceptual frameworks, skills and practices directed towards nexus challenges.
The Nexus Network is the first in a linked series of ESRC investments, the second being a 'sustainable prosperity' steer in this year's ESRC Centres and Large Grants Call. It is ESRC's vision that as The Nexus Network grows, it will work with this community to scope future calls, ensuring that the research it commissions builds on, and is directly informed by, the interdisciplinary community it is supporting through the network.
Anyone with an interest in these debates is actively encouraged to join The Nexus Network, by signing up at thenexusnetwork.org.uk/join
The Nexus Network has also committed £500,000 to provide grants for pilot projects, blue-sky ideas, working papers and placements. An initial call for proposals has been issued today, for a series of up to ten 'think pieces' or working papers, of no more than 8,000 words in length, which can help to scope and define nexus approaches, and stimulate debate across the linked domains of food, energy, water and the environment.
For more information, see thenexusnetwork.org.uk/funding-available