Professor Mazzucato wins the inaugural prize for her work on the "entrepreneurial state" and innovation in the public sector.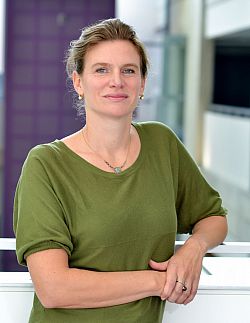 Mariana Mazzucato, RM Phillips chair in the Economics of Innovation at SPRU, has been awarded the inaugural New Statesman SPERI prize in political economy.
The Prize,launched this year by the New Statesman magazine and the Sheffield Political Economy Research Institute (SPERI) at the University of Sheffield, is awarded biennially to the scholar who has succeeded most effectively in disseminating original and critical ideas in political economy to a wider public audience in the preceding two or three years.
The shortlist for the prize contained some of the most innovative and exciting thinkers in political economy working today. They were: Ha-Joon Chang (University of Cambridge); Mariana Mazzucato (SPRU, University of Sussex); Thomas Piketty (Paris School of Economics); Wolfgang Streeck (Max Planck Institute, Cologne); Anne Wren (Trinity College, Dublin); and Simon Wren-Lewis (University of Oxford).
Johan Schot, Director of SPRU said "This is a very significant prize, not only to win the prize in the inaugural year, but also given the impressive competition".
In their announcement of the shortlist, the jury said of the winner: "Mariana Mazzucato is a professor of the economics of innovation at the University of Sussex. She is an accomplished broadcaster and writer, and her 2013 book The Entrepreneurial State contained a wealth of examples showing how the state – not just the private sector – could foster innovation. The judges praised the originality of her thinking, her willingness to challenge the conventional wisdom and her capacity to take her arguments forward with gusto."
Professor Mazzucato said: 'I am honoured and delighted to receive the New Statesman SPERI prize, especially given the high calibre of the shortlist. I hope it will help focus attention on the urgent need to tackle rising inequality. This is not just about tax: we need to fundamentally rethink how we talk about wealth creation. Ignoring the key role of the state – or the tax payer – in wealth creation has, in my view, been a lead cause of inequality, allowing some (hyped up) actors to reap a rate of return way beyond their actual contribution. My Prize Lecture will focus on this dysfunctional dynamic – and what to do about it."
Professor Mazzucato will deliver The New Statesman SPERI Prize Lecture at the Emmanuel Centre in London at 6.30pm on Thursday 13 November. Its title will be: "Smart growth: an innovative way to tackle inequality". The lecture is free, but places are limited. For more details, see the New Statesman