With over 50 years of experience, SPRU is internationally recognised as a leading centre of research on science, technology and innovation policy.
Founded in 1966 by Christopher Freeman, a pioneer of what is now known as innovation studies, SPRU was one of the first interdisciplinary research centres in the field of science and technology policy and management.
Today, with over 70 faculty members, SPRU remains at the forefront of new ideas, problem-orientated research, inspiring teaching, and creative, high impact engagement with decision makers across government, business and civil society.
Research Impact
Our research addresses pressing global policy agendas, including the future of industrial policy, inclusive economic growth, the politics of scientific expertise, energy policy, security issues, entrepreneurship, and pathways to a more sustainable future. We work across a broad range of sectors including food, energy, healthcare, biotechnology and ICT.
We are driven by a desire to tackle real-world questions, whilst also contributing to a deeper theoretical understanding of how innovation is shaping today's world.
Drawing on insights from across the social and natural sciences, engineering and humanities, SPRU's pioneering research is known and respected worldwide. A 2012 study published in the journal 'Research Policy' ranked SPRU second only to Harvard University in terms of its research impact in innovation studies.
Training the next generation
With a community of more than 200 MSc and doctoral students from all over the world, SPRU is also well known for its high quality, research-led teaching programmes. The multidisciplinary nature of SPRU means that students have access to an extensive range of expertise, whilst also contributing directly to SPRU research as part of their training and development.

Msc Courses:
Phd study:
Pushing the frontiers of knowledge
With its extensive global alumni network among senior science and technology policymakers, SPRU is committed to engagement and generating impact, not only in the dissemination phase but also by involving stakeholders in the framing and conduct of research. Working closely with government departments, think tanks, media, companies, and parliamentary committees, members of SPRU are experienced in disseminating and applying their latest research findings.

Located within the University of Sussex Business School, SPRU is a dynamic contributor to the University of Sussex's wider culture of research and teaching excellence.
For further details of SPRU's pioneering research, transformative teaching and extensive outreach, please view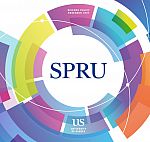 the SPRU brochure.
View a collection of 50-second long video reflections on SPRU's 50-year history and beyond: