TURN-OUT: Time Use in young people who aRe NOt in employment, edUcation or Training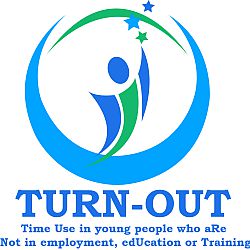 What is TURN-OUT?
Sometimes young people can find it hard to live the life they want to live. They might have problems going to school or college, finding a job or taking part in social activities. TURN-OUT is being done to find out more how young people spend their time and how this relates to their wellbeing, thoughts and feelings. We are interested in speaking with young people who might have different patterns of time use, for example, young people who are Not currently in Employment, Education or Training.
What does TURN-OUT involve?
TURN-OUT involves meeting up with one or two of the project researchers to complete an assessment. The assessment will take about one hour and 30 minutes to complete in total. This will be spread over one or two sessions (or more); whichever is more convenient and comfortable. A friend, relative or worker tcan be present during the assessment if wanted. The assessment can be done somewhere convienient, for example, at the University of Sussex, a public place (for example, a college or library), or a health, social or youth service building.
The assessment will include some discussion questions and some paper questionnaires. The topics will include time use and activities, psychological wellbeing, beliefs about the self and other people, and social life and relationships. Examples include being asked about low mood and irritability, thoughts about social interaction and worries about other people.
What are the possible risks of taking part?
Sometimes young people can find it difficult to answer questions about their psychological wellbeing and thoughts and feelings about themselves. Our researchers are experienced in talking to young people about difficult thoughts and experiences. However, young people would not need to answer any questions that they didnt want to and could choose to end the assessment at any time.
What are the possible benefits of taking part?
We hope that the information we collect will help us find out more about how young people spend their time and how this is related to their psychological wellbeing. Members of the research team work in youth mental health services and research. The information collected will help to inform the development of interventions and research projects designed to help young people with psychological and social problems in the future. Anyone taking part in the project also is able to enter into a prize draw to win £25.
Who do I contact if I want to take part?
TURN-OUT is happening in youth and youth employability services in Sussex - please speak to your youth worker about the project. You are also welcome to contact a project researcher for more information.
Please contact:
Lucie Crowter (E: lec24@sussex.ac.uk)