Staff and students join thousands of runners for tenth Brighton Marathon
Among the thousands of runners in the 10th anniversary of the Brighton Marathon on Sunday (14 April) were two members of Sussex staff who had special cause for celebration.
Before the start, just 102 runners were in with a chance of getting a 10/10 medal, for completing every single race since the event started in 2009.
The day was blessed with almost perfect weather: bright sunshine, a nip in the air to keep the runners cool, but a strong easterly breeze to contend with.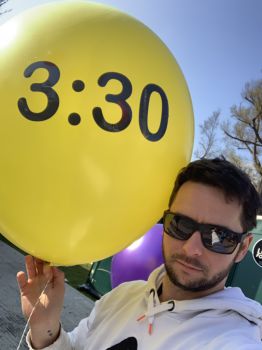 They set off from Preston Park and headed into the city centre then out to Ovingdean, doubling back westwards to Shoreham power station and east again along the seafront to finish on Madeira Drive.
And after 26 punishing miles, both Kevin Betts and Jackie Rymell received their very special finishers' medal.
In fact, Kevin has completed a total of no fewer than 90 marathons (or thereabouts).
On this occasion, he acted as one of the Brighton Marathon's official pacers, for runners going round the course in 3 hours and 30 minutes. Kevin summarised the experience as "painful", explaining: "I didn't train as much as I should and I got found out. Mostly fun though."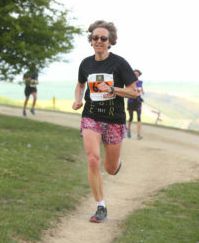 Not far behind was Jackie, with a finish time of 03:43:04 – an improvement on her times in both 2018 and 2017. Impressively, this placed her 6th out of 209 women in her age group.
Jackie said: "[Former University of Sussex Librarian] Kitty Inglis should get a medal for her amazing support over the years – she is always somewhere on the route cheering me on, and was there again on Sunday."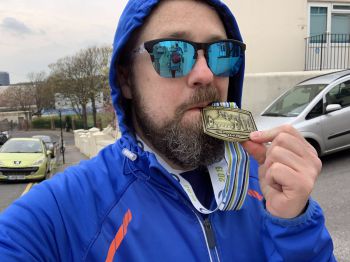 Among the runners completing the Brighton Marathon was another seasoned finisher, Dan Axson. Dan described the experience as "once again epic", declared himself "super pleased" with his time (04:18:50) and pace, and had particular praise for the crowds: "Sooo much love and support."
The runners were accompanied all the way by huge crowds, who lined the route to cheer on family and friends as well as complete strangers.
---
Found this interesting? Share it on social media: