Don't miss these Sussexsport group fitness classes this autumn
By: Liv Connor
Last updated: Monday, 30 October 2023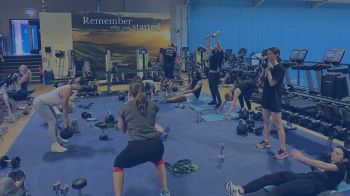 Sussexsport has a huge variety of group fitness classes on offer for staff, all included within your Silver or Gold membership:
Small Group Training and Small Group Strength
Monday 12pm-12:45pm and 5:15pm-6pm

Thursday 12pm-12:45pm
Master strength exercises like squats and deadlifts within a supportive environment, with a high coach to member ratio.
Yoga
Monday 1pm-2pm

Wednesday 12pm-1pm
Improve your strength, stamina and flexibility while taking the time out of your schedule to prioritise your health - both mental and physical.
Body Conditioning
Wednesday 5:05pm-5:50pm

Friday 1:05-1:50pm
High intensity, high energy, yet suitable for any levels of ability! What's not to like?
Indoor Group Cycle
Monday, Wednesday and Friday Lunchtimes

Saturday 10:05am-10:55am
A staple of any group fitness programme! Sweat your way to feeling good with this intense calorie burner.
Metabolic
Tuesday 5:30pm

Friday 5pm

Saturday 10:30am
A strength training class – perfect if you want a challenge and the chance to use a range of equipment. Some free weights experience needed.
View all of our classes and book online