Sussexsport #FridaySpotlight
By: Terry Cooper
Last updated: Monday, 28 November 2022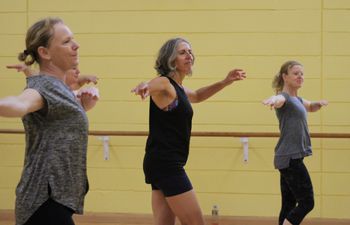 Our #FridaySpotlight campaign focuses on the positive impact physical activity has on the university population and beyond. Our first #FridaySpotlight is dedicated to our brilliant Zumba group fitness classes run by the fabulous Gemma.

Zumba, the Columbian-dance inspired exercise programme, is one of our most popular group fitness classes to date. In this class you'll find a fun and supportive atmosphere accompanied by a variety of upbeat music. Zumba is popular with both the students and staff population alike because of its focus on moving to the music and having a good time. This class is a great choice for both beginners and experienced participants who are looking to have some fun while working out.

Another reason for the classes' success is our wonderful fitness instructor Gemma who has been with Sussexsport for over 10 years. Before joining our team in 2006, Gemma started her career as a performer working on cruise ships and as a dancer featuring on the Spirit of the Dance tour around America. Gemma is now based in Sussex and is a valued member of the Sussexsport team who brings an incredible amount of enthusiasm and energy to her classes.

In our Zumba classes you'll find a fantastic warm community feel that we like to think is radiated across the whole of Sussexsport. We asked one of our regular group fitness attendees Monty about his thoughts on the community feel in Sussexsport group fitness classes.
'I used to be nervous going to the classes thinking that I wouldn't fit in. But then I tried a class, then another, until I tried several and realised it's just a bunch of friendly people and no one is judging. If anything, we help each other out!'

These sessions are open to everyone of all levels and experiences. We're always happy to see some new faces so check out the details on our group fitness timetable online or pop into our facilities and ask our friendly reception staff for more details. You can book any of our classes as one-off sessions on a pay-and-pay basis or become a member for unlimited group fitness classes, gym access and other great benefits.