Building works set to improve accessibility and service delivery in the Library
By: Ciaran Clark
Last updated: Wednesday, 26 January 2022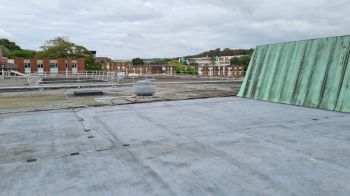 Building works set to improve accessibility and services in the library.
We have begun several building works in the first quarter of the Spring term that will improve the user experience for students and staff.
Starting this week from the 24 January we are running the install of a new fire alarm system throughout the building, starting on the second floor, and working down to the basement. Maintenance crews will be operating section by section and floor by floor and will ensure noise and physical disruption is kept to a minimum. Small areas will close temporarily as they move through each space.
At the start of February, we will be automating all accessible WC doors, which should take approximately 1 week. This will improve the accessibility of these doors, part of an ongoing project to improve accessibility in the library.
Also in February, we're expecting the start of a large-scale project to replace the roof covering at the front of the building which should solve the majority of the major leaks in the building. This is a large undertaking, and we want to assure users we will again keep disruption and noise to a minimum.
You can follow along on social media @sussexlibrary for up-to-date announcements on which areas will be noisy on which days.
Finally, we have several projects (automation of ground floor study room doors, making the courtyard accessible, a new racking system install in the BLDS store and the creation of four new, all gender bathrooms on the ground floor) that have yet to be given a fixed start date but are estimated to all happen by June.
All these works will mean there are maintenance crews in the building who will do their best to minimise disruption and noise levels. We'll also give you live updates on our socials and webpages as these works take place
If you have any questions, feel free to get in touch at library@sussex.ac.uk