Special offer gym memberships for Sussex staff
Posted on behalf of: Sussexsport
Last updated: Monday, 9 August 2021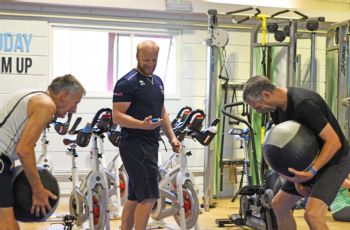 Returning to campus
We recognise that many colleagues will be returning to campus after a long period of home-working, and that many in our campus community will be adjusting to a new pattern of hybrid working.
You may be on campus less frequently, but that doesn't mean that you can't make the best of everything that it offers when you're here - including our two fitness hubs: the Sport Centre and the Falmer Sports Complex.
Our all inclusive Staff Gold membership - which includes anytime gym use at both sites, our diverse range of group exercise classes, and racket sports - works out as less than £19 a month. And a Silver off-peak all inclusive membership is under £15 a month, with no joining fee for any of our membership options.
We also have some special offers for staff in the autumn term, if you'd like to dip your toe in first before committing to a rolling monthly membership.
Free Bronze membership benefits
We want to make sure that our memberships work for you and are as flexible and economical as you need them to be.
That's why we're offering access to our Bronze membership benefits, which is normally £30, free of charge until the end of December 2021.
Sign up as a staff Bronze member now and you'll be eligible for special discounted pay-and-play rates across our facilities - including group exercise classes, fitness room (gym) visits and racket sport court bookings - throughout the winter term.
So you can use us as little or as often as you like, without any of the commitment of a monthly membership.
Our free Staff Bronze access will end on 31 December, so sign up now to get the most out of this offer!
If you find you are visiting us regularly, then you can upgrade and sign up to one of our great value memberships.
Four months for the price of three for just £110: includes gym, classes and racket sports
We know that the autumn term may be an opportunity to test out new ways of working and get used to campus life again.
So if you're not sure that you want to commit to an annual membership just yet, we're also offering an extra month for free when you sign up for our three-month Staff Gold membership: giving you four months for the price of three for just £110!
That's anytime gym use, access to all of our group exercise classes, plus racket sport courts (tennis, badminton, squash and table tennis) for just £27.50 a month - with no joining fee.
Who can sign up?
To qualify for staff membership you must be a full or part-time member of staff at the University of Sussex (proof will be required). This includes: SussexFood staff, University of Sussex Co-op staff and SEF staff.
Staff employed and paid by the University of Sussex can pay for Gold and Silver memberships monthly via salary deduction (subject to contract). Just ask us about this and we can get you set up.
SussexFood, Co-op and SEF staff can pay for their memberships via standing order.
Which option is best for me?
Our Gold, Silver and Bronze memberships offer great value for money. Have a look at our membership types to find out which one is best for you.
Gold (all-inclusive, any time)

Our all-inclusive Gold membership gives you:

Anytime gym use
Unlimited group exercise classes
Anytime racket sports court hire
14 days advance booking rights for classes and courts
Gym introduction on request
Access to more than 90 facilities at 75 universities nationwide with BUCS UNIversal Gym (year Gold only). Universities include Surrey Sports Park and Kings College London.

Silver (all-inclusive, off peak only)

Our all-inclusive Silver membership gives you:

Off peak fitness room use (up to 2.30pm)
Unlimited group exercise classes
Off peak racket sports court hire (up to 4pm)
10 days advance booking rights for classes and courts
Gym introduction on request.

Bronze (reduced price pay-and-play)

Our Bronze pay-and-play membership offers you discounted fitness and sporting opportunities at a reduced pay-and-play rate, so if you're only using our facilities very occasionally it can be a great option. Bronze membership gives you:

Reduced rate pay-and-play fitness room use (from £3.80 a visit)
Reduced rate pay-per-class group exercise classes (from £4.40 a visit)
Reduced rate pay-and-play racket sports court hire (from £3.00 a visit)
7 days advance booking rights for classes and courts
Gym introduction on request.
Organise a team building session with us
As staff begin to return to campus, some team building time can be a great way to reconnect with colleagues old and new.
We can organise fun and informal wellbeing activities for teams and departments using our indoor and outdoor facilities - just get in touch to find out more.
Further information: http://www.sussex.ac.uk/sport/staff