Going for gold: How the Sussex Fund supported one Sussex student's Commonwealth powerlifting success
By: Emma Wigmore
Last updated: Thursday, 24 October 2019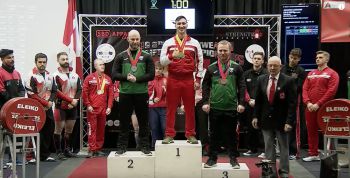 A former Sussex sports scholar has beaten six other world class competitors to scoop four gold medals in his U74 weight category in the Commonwealth Powerlifting Championship held in St John's, Canada.
Nathaniel Wiesendanger Shaw, known as Nate, who is studying for a PhD in Theoretical Physics in the School of Mathematical and Physical Sciences, has been competing in powerlifting competitions for the past six years, more recently representing Great Britain and England at international level.
Nate, who has previously won the Commonwealth Championships twice, took home gold medals in each championship discipline: squat, bench press and deadlift, as well as the overall gold for the competition.
Since 2015, Nate has been enrolled in Sussex's sports scholarship scheme. Sports scholarships are entirely funded by the Sussex Fund which is generously supported by alumni of the University. As well as encouraging excellence via scholarships, the Sussex Fund provides financial assistance through hardship bursaries as well as offering students opportunities that they might not have had otherwise.
You can make your gift to the Sussex Fund and help other high achieving sportsmen and sportswomen by visiting our secure online giving page.
Referring to the impact that his scholarship has had on him, Nathaniel said:
"The successes I have achieved have been made entirely possible by the scholarship scheme. Thanks to the support of Sussex alumni, I have been able to afford travel for competitions as well as hire the best coach in the business: Lawrence Farncombe.
"The scholarship has also provided me with excellent mentoring, which I've found really useful over the years, helping me find the right balance between academic life and powerlifting.
"Additionally, the scholarship scheme provides access to an excellent physio (Marc Slowey, who works at Sussexsport) and chiropractor (Leah Sheldrick) who have both helped me battle difficult injuries over the last year or so."
Terry Cooper, Deputy Head of Sport and co-ordinator of the sports scholarship scheme commented:
"It is great to see Nate continuing to compete at the highest levels as well as winning his three Commonwealth titles. We are delighted that the sports scholarship scheme has been instrumental in his success over the years, including the positive impact of the mentoring provided – this is an aspect of the scholarship scheme that I feel is vital to our athletes' development. Nate has been a model sports scholar, always willing to help out at open days as well as offering support and advice to other athletes. His Commonwealth success is particularly well-deserved."
Nate's fellow powerlifter and sports scholar, Poppy Joshi, has likewise achieved considerable sporting success, notably by breaking a world record at last year's International Powerlifting Championships in Glasgow.
Students can find out more about sports scholarship opportunities on the Sussexsport webpage.