Sports changing rooms reopen after revamp
Posted on behalf of: Sussexsport and Estates
Last updated: Monday, 23 September 2019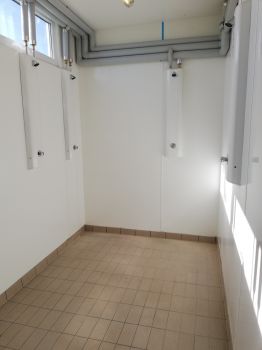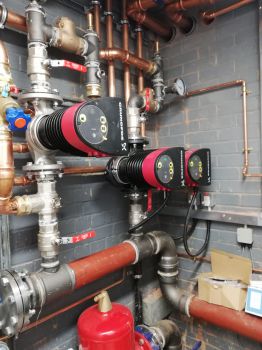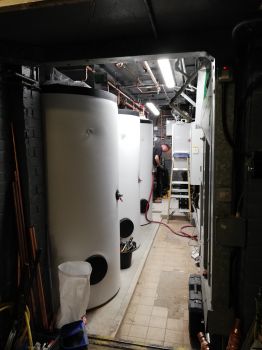 Changing rooms on the University of Sussex campus have reopened for the start of term, after a complete overhaul of the showers and water system.
Most of the changing facilities in the Falmer Sports Complex are now back in use after a major summer refurbishment, and the final two changing rooms and toilet areas are due to be ready by mid October.
Improvements include all-new copper pipework throughout the building, supplying all water outlets including showers and basins.
Scott Noble, Head of Service Delivery in Estates and Facilities Management, said: "Three modern hot-water cylinders, two new boilers and six pumps in the refitted plant room ensure there is a consistent flow of hot water throughout the building on a daily basis.
"The new shower heads in all of the changing rooms now have internal mixer valves, which control the temperature of the water. We've also updated the look of the shower areas."
In the past, the local hard water has damaged the pipework over time and furred up the shower heads with limescale; now a new water softener system will make the pipes much easier to maintain.
Simon Tunley, Head of Sport, said: "It is absolutely vital that we offer excellent and modern sports facilities for the campus population and our local community.
"Our fitness rooms and our sports pitches are consistently in use throughout the year, so the investment in the showers at the Falmer Sports Complex is a really positive development."
Other changes at the Falmer Sports Complex include an upgraded air conditioning system.
Simon said: "I am delighted that we have almost completed our refurbishment programme, and that our users can enjoy all of the new improvements."
All students who purchase an annual Gold or Silver Sussexsport membership (online or in person at the Sport Centre or Falmer Sports Complex) before 30 September will be entered into a raffle to win a brand-new Quella single-speed bicycle.