News
Parking charges suspended for March and April
Posted on behalf of: Transport
Last updated: Friday, 5 March 2021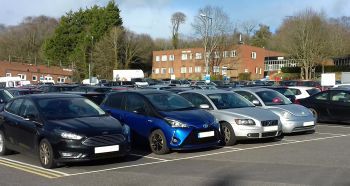 In response to the latest Government update that national Covid-19 restrictions will be gradually eased through the spring, parking charges on campus will remain suspended throughout March and April for all staff and students.
This means that you do not need to pay to park on campus for the duration of this suspension:
If you are a staff member who pays monthly via salary deductions, payments will be suspended for March and April.
If you are a staff member who uses daily scratchcards, you do not need to display a scratchcard alongside your pass-to-park while on campus.
If you are a student with a pre-paid annual campus permit, you can request a refund for months while parking charges were suspended (from January to April) by contacting the Transport Office at transport@sef.fm.
If you are a visitor, you do not need to pay for parking or display a visitor scratchcard to park on campus.
If you need to park on campus during March and April, please continue to display your parking permit or pass in the windscreen of your vehicle.
If you do not have a permit, you can request a temporary permit free-of-charge by submitting an application form to the Parking Panel at parkingpanel@sussex.ac.uk. Staff and students who currently have a temporary permit that will expire soon do not need to request a new one – your permit will remain valid until Friday 30 April.
Please ensure you follow all parking rules and regulations as signposted while your vehicle is parked on campus, and park only in designated car parking bays. Any vehicle parked in areas indicated as "No Parking" will receive a Parking Charge Notice (PCN).
Visit the Transport website for more information on car parking and transport.