Spirit of Sussex Award in action
Read about some inspirational ways our students get involved with extra-curricular activities.
Jordi, Drama and Film Studies Student (third year)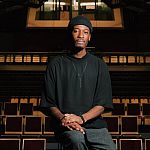 "I got involved with FABRIK Sussex as I knew the Society would enable me to get more experience with modelling and working alongside photographers, stylists, creative directors, etc. My main modelling campaign with FABRIK told a story of what it means to be Black and 'masculine' led by photographer Pablo Santana. This campaign was the fourth of Pablo's work to be featured in Italian Vogue, something we are extremely proud of.
I joined the Drama Society because I knew that this would be the best opportunity for me to enhance my acting and performance skills in service to my career goals and ambitions. I made connections with students outside of Drama who were just as interested in technical theatre, producing, and directing. I gained valuable experience through the 2020 production of The Crucible, which was to be performed at the Attenborough Centre for the Creative Arts last March.
I am also the Creative Director of BAME Sussex. Through this role, I taught myself the fundamentals of being a creative director; planning advertising, supervising a creative process, and guiding Communications. It's been amazing for me to realise my own aesthetic eye and match it with the needs of a new Society. I've loved working alongside my other Committee members in building this space and community for Black, Asian, and Minority Ethnic students at Sussex.
My extra-curricular involvements revolve primarily around my career goals. I have made my debut as a Radio Presenter on The Rising, which is Brighton's first-ever youth-led breakfast show, on Platform B, which is a next-generation radio station in the city. It's really been an honour to have been one of the three chosen for the job, and it has enabled me to learn more about what's going on in the city. Other than that, I use my time to teach myself about the acting industry through the National Youth Film Academy, in preparation for my applying to drama school for a Masters in Acting/Performance. I look to use the skills I have enhanced during my time at Sussex to forge my own path in the creative industry and join the trailblazers who are changing the game for other young creatives, particularly those of colour."
Emma, Medical Student (third year)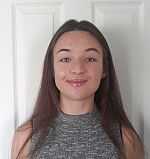 Emma is a third-year medical student who has already received 105 Spirit of Sussex points for her all her extra-curricular activities.
"I was part of the BrightMed outreach programme age 13-18, and since then I have become a teaching mentor both at BSMS and KMMS (Kent and Medway Medical School). BrightMed aims to develop confidence and interest in healthcare (and university in general) as well as to support students in making a strong application to medical schools throughout the UK.
Through this, I also heard about a student led programme called An Apple a Day (AAAD) for which I am now curriculum lead and a teaching mentor; the aims of AAAD are to promote health equality by empowering young people from lower SES to make healthy decisions.
Last summer I completed a research project on the Changing Epidemiology of Pancreatic Cancer in England, 1985-2017, and I have just started another research project with another student.
I have also been involved in organising and promoting events for various societies including Friends of MSF, the Oncology Haematology and Palliative Care Society and the BSMS Research Society.
I have had part time jobs as a healthcare assistant, in retail and with the university. I started my job as a HCA during Covid and this has been difficult because of reduced training.
Pre-Covid, you would find me at the swimming pool, gym and dancing Salsa and Bachata, but now I am trying weightlifting and am loving it!"
Sasha, BA International Relations (third year)
Sasha recently submitted a Student Blog for RAISE (Researching, Advancing & Inspiring Student Engagement), a worldwide network of staff and students in Higher Education who work or have an interest in the research and promotion of student engagement.
"Co-Creation. Prior to my role at the Spirit of Sussex Award, I had little experience of what this term truly meant. The Spirit of Sussex Award (SoSA) is a new scheme launched in September 2020 which encourages student engagement and encourages a sense of community through its student participants. The award is centred around celebrating students' extra-curricular achievements whilst at university and seeks to bring students together with the key aim of getting to know and enjoy their local community. It does so through encouraging students to take part in a variety of extra-curricular activities, such as part-time work, society membership, volunteering and so much more. Through participating in the award, students can work towards different award levels (Bronze, Silver and Gold) and are awarded a certificate at graduation.
Unlike other awards, SoSA is centred around community spirit and moves away from traditional focuses on careers and employability. Students gain recognition for all aspects of their hard work outside of their academic success and can build a portfolio of achievements through the award platform. This means students, including myself, can leave university with a sense of community, extra-curricular accomplishment, and a certificate to demonstrate the multi-faceted ways in which they became involved with their community.
Being a student at university, group projects were no surprise to me. However, they often followed a pattern of some peers doing most the work, whilst others sat back and relaxed. SoSA allowed me to experience the true ways in which co-creation excels, the benefits of collaborating and creating together. Working with professional university staff alongside fellow peers meant I developed essential co-creational skills such as communication, understanding and the ability to work collectively in a team. Co-creation also allows for ideas to come to fruition together and creates a multitude of approaches and solutions, meaning the final product is rich with ideas and creativity.
Collaboration has been central to my role from the start. Whether this be with a society who has raised over £23,000 for Samaritans Emergency Fund or students who run a zero-food waste café, I am consistently working with fellow students to raise awareness and celebrate their extra-curricular achievements. Within my team, staff and students work together on projects such as monthly social media content and strategy, platform enhancement and creating award case studies, all based around engaging fellow students in both SoSA and the Sussex community.
Having started in February 2020, it has been a joy to watch the award flourish from an idea on paper to its first year of Spirit of Sussex Awardees and Graduates. The people I have collaborated with, and the experience I have gained, has been irreplaceable and has truly highlighted how essential students' involvement is in University projects and initiatives. Having a say in the operations, promotion and delivery and being able to put forward the student voice means students are truly invested in the success of the award. The continuous co-creation between staff and students has resulted in an award which has the student voice at its heart."
Sasha is now studying abroad and earning points towards her Spirit of Sussex Award across the globe! We wish Sasha all the best for the future.