Vice-Chancellor's introduction
In the words of Sussex's founding Vice-Chancellor, education at Sussex is 'making the future'. Our research has always been an integral part of that vision - our work today will create solutions that will reshape the world as we know it. I'm proud of all that we have achieved in the past year, outlined on the following web pages.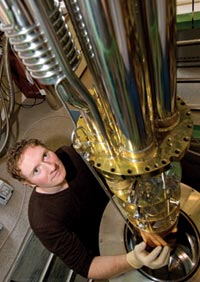 January 2009 saw the publication of our strategic plan for the next seven years, titled Making the future. While that plan, of course, covers all our activities as a university - the importance of research to everything we do is reflected in the fact that it is our first strategic goal. And that goal is an ambitious one - challenging us to become an internationally renowned, research-intensive institution with a genuine impact on real-world problems.
The founding inheritance of Sussex is also reflected in our new initiative on interdisciplinary research - the frontiers of knowledge between subjects where new ideas and understanding are found. We have this year created six interdisciplinary research themes, which will drive the direction of our research moving forward, as we appoint key members of staff to lead each theme.
This year also saw the results of the Research Assessment Exercise 2008. I was delighted that those results confirm our position as one of the leading research universities in the UK. We will now be focusing on improving our standing even further, and working with the new metrics system that the Government is putting in place to measure research quality.
A key part of delivering that new plan will be a new academic structure at Sussex from September 2009, with 12 new schools of studies replacing the current system. Research will lie at the heart of the new schools; each will be lead by a new Head of School; each will have its own Research Strategy and Director of Research. And at Sussex, where research informs our teaching, we have seen the second year of our highly successful Junior Research Associates Scheme, which gives undergraduates real experience of hands-on research work - the first step towards a fulfilling research career.
We regard our postgraduate research students as critical to the research success of Sussex. To support them even more effectively, from this September, we are creating the Doctoral School at Sussex. This School will offer a supportive environment for early-career researchers across the University.

Professor Michael Farthing - Vice-Chancellor