The horrible gift of freedom
Re-evaluating visual representations of Atlantic slavery and emancipation
The theme of culture and heritage allows researchers to explore the construction of identity and culture through notions of memory and place.
Through his academic writings and work as an artist and filmmaker, Professor Marcus Wood explores the inheritance of colonialism, racism and Atlantic slavery, and how, as a culture, we remember traumatic and violent experience.
Why does imagery showing the very instant of the birth of black slave freedom invariably personify Liberty as a white woman? Where does the image of the enchained kneeling slave, ubiquitous in abolitionist visual culture on both sides of the Atlantic, come from? And why is freedom always depicted as a gift from white to black people? These are some of the questions addressed in The Horrible Gift of Freedom, the most recent book to be published by Marcus Wood, Professor of English. In The Horrible Gift of Freedom Professor Wood explores the visual archives and iconography associated with the abolition of Atlantic slavery, and discusses how, to this day, our visual representations of slavery focus on celebratory myths that function to diminish white culpability and black outrage.
So much of both our historical and recent representation of the abolition of slavery focuses on the white heroes of abolition, most visibly William Wilberforce, without publicising much of the darker and horrifying aspects of slavery, or fully discussing the philosophical premise that you cannot give someone their freedom. If we are all born free, then it is only possible to restore that which has been stolen. Rather than celebrating the idea of granting freedom as a great cultural landmark, should we instead be acknowledging the lies on which such myths are built? The Horrible Gift of Freedom puts the cultural grandstanding, that celebrates the 'heroes of abolition' into historical context. The book traces the roots of this phenomenon back to the emancipation ceremonies of ancient Rome, ceremonies that were often used for the self-glorification and propagandistic promotion of slave owners. The argument is then extended through the era of Atlantic slavery, and taken up to the present day in an evaluation of the 2007 bicentenary celebrations of the 1807 Act abolishing the British slave trade. In this context, a provocative mixture of material is analysed, ranging from commemorative postage stamps, to museum exhibits, street performances, religious ceremonies, political protests, and popular film.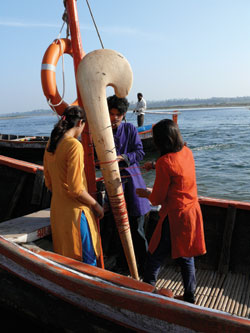 Exploring Brazilian slave culture
Professor Wood's latest book, Slavery Systrophe: Brazil America Slavery and Art, will extend his research into a comparative analysis of the visual archives of the slave cultures of Brazil and North America. In contrast to those of North America, the Brazilian archives have been little studied and offer a wealth of new perspectives that, in turn, allow for a radical re-appraisal of the more familiar American slavery materials. The work includes an intensive study of photography and slavery in these two cultures and considers how very differently the museum cultures of the two regions portray slavery. In its latter stages, the book moves into the cutting-edge discipline of 'intangible heritage', exploring such neglected questions as the importance of the transfer of African trade beads into Afro-Brazilian culture, particularly within the context of syncretic religion.
Professor Wood also trained as an artist at the Royal College of Art, and has continued to work as a painter, performance artist and filmmaker throughout his career. Most recently this led him to undertake a major piece of performance art in collaboration with young Indian artists at the School of Fine Arts, Maharaja Sayaji Rao University, Baroda, Gujarat. The work focused on the symbol of a giant hockey stick, a dual representation of India's national sport and a weapon commonly used in gangland violence. The hockey stick thus mirrors the role of the baseball bat in North American culture. Professor Wood's academic and artistic work serves both to explore the inheritance of colonialism, racism and Atlantic slavery, and asks how, as a culture, we remember traumatic and violent experience.
Marcus's perspective

I have always had something of a schizophrenic life within the University, bouncing between being an English academic, and a practicing artist. Up until a few years ago my two careers were fairly discrete, I either wore my artist's hat or my English professor's hat. Yet as I moved from the study of English Romanticism (the focus for my first book Radical Satire and Print Culture 1780-1830) to work more exclusively on slavery and traumatic memory, I found my imaginative worlds as artist and scholar moving closer together. The last three years, which I have spent as a Senior Leverhulme Fellow, have seen this synthesis become more or less complete. I see the performance art and film I recently made in India as addressing the very same questions of colonialism, violence and subaltern agency that my academic books tackle, albeit from a different angle. What other university in the world would have supported and understood the strange variety of my work? The profound imaginative sympathy of senior colleagues and mentors in Sussex English, especially Alan Sinfield, Andrew Crozier, Lindsay Smith, Nic Royle and Jenny Bourne Taylor, created a unique research environment for me.
Marcus Wood
Professor of English