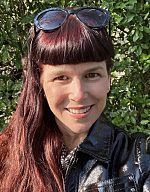 Dr
Gillian Sebestyen-Forrester
Biography
Education
B.Sc. - University of California San Diego - Cognitive Science Department Honors Thesis: Face recognition in squirrel monkeys as a function of social status and attention using event-related potentials. Published in Cognitive Brain Research
D.Phil. - University of Oxford - Department of Experimental Psychology Examined shifts of attention in vision and language using ERPs, fMRI and PET in collaboration with the Wellcome Functional Imaging Laboratory, UCL and Northwestern University Medical School. Thesis title: Shifting Attention Based on Perceptual or Linguistic Information: Behavioural and Electrophysiological Studies
Role
Lecturer in Psychology (01/01/08 - present)
Department of Psychology
Open University
Research Fellow (01/08/08 - present)
Centre for Brain and Cognitive Development
Birkbeck College, University of London
Multidimensional Investigation of typical preverbal children and children with specific language impairments.
Associate Tutor (01/10/08 - present)
Cognitive Psychology II
Department of Psychology
University of Sussex
Daphne Jackson Research Fellow
University of Sussex (2004-Present) Department of Psychology, School of Life Sciences. Three year post-doctoral grant to study multimodal communication in Western Lowland Gorillas. Gorillas located at Port Lympne Animal Park (John Aspinall Foundation).
Research Background
Since my undergraduate studies, I have maintained a concentrated research focus on human and non-human primate cognition at both the neural and behavioural levels. My current research centres on building an understanding of the mechanisms that underlie complex communication in non-human primates (specifically, great apes). I have developed a novel method of recording, coding and analysing multimodal behaviours in gorillas as they interact with their social partners and the environment. Drawing from my knowledge of neuroscience and brain processes, I take a distributed approach to social cognition. Primate behaviour can never be analysed as a single isolated event, but rather one that is comprised of a network of interacting sensory signals within a particular social context over space and time. Unlike previous research in the area of primate communication, this approach requires one to consider the coordinated efforts of the entire body as it generates auditory, tactile and visual signals. This research is important both for understanding a unique species of ape as well as for drawing comparisons between apes and humans in an attempt to better understand the evolution of modern human language.
Current Areas of Investigation
Multidimensional behaviour in gorillas
Methods and Analyses Structure in multimodal signals
Simultaneous and sequential signals

Limb laterality in object manipulation and emotive behaviours
Dynamic behaviour: the role of social context, proximity and timing
Individuals differences, groups and mother/baby dyads