News
Doctoral School launches new-look Researcher Development Programme
By: Katy Stoddard
Last updated: Wednesday, 27 September 2023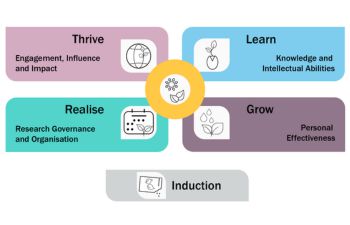 The Researcher Development Programme (RDP), the Doctoral School's training and development programme for postgraduate researchers, has undergone a makeover ahead of the 2023/24 academic year.
Themes have been reorganised to match more closely to Vitae's Researcher Development Framework, a tool that helps PGRs develop the skills needed to be an effective researcher.
The workshops remain the same but, rather than repeating everything three times a year, most sessions will be streamed into two-month bands. This allows researchers to plan their time effectively and focus on particular skills alongside other PGRs, leading to a richer learning experience.
The most in-demand or vital Core workshops will continue throughout the year, and the PGR Essentials and Looking After Yourself mental health sessions will be packaged in October and February inductions.
The themes are:
Learn - RDF domain A: knowledge and intellectual abilities (November and December)
Grow - RDF domain B: personal effectiveness (January and February)
Realise - RDF domain C: research governance and organisation (March and April)
Thrive - RDF domain D: engagement, influence and impact (May and June)
Core - cuts across RDF domains (year round)
Induction (October and February)
The emphasis on public engagement and impact in the summer months leads nicely into festival season, when we celebrate Sussex postgraduate research and showcase it to the wider university.
How the RDP works
Individual sessions will open for booking four to six weeks in advance, on a rolling basis, and will be listed on the scheduled workshops and events page.
If you're a PGR, visit the RDP workshops webpages to familiarise yourself with the new themes and to start thinking about the training you'll need this year, wherever you're at in your research journey.
Further information: http://www.sussex.ac.uk/internal/doctoralschool/researcherdev/allevents