News
Final call to complete data protection e-learning training
All staff at the University deal with personal data in some capacity as part of their work, so it's important that everyone understands the legal requirements and responsibilities involved.
Data protection legislation changed in May last year with the implementation of the General Data Protection Regulation (GDPR) and the UK's Data Protection Act 2018 – introducing stricter requirements for how we collect, use and manage personal data.
The best way to ensure awareness is for staff to complete the University's GDPR e-learning module.
Vice-Chancellor Adam Tickell said: "The University has a statutory obligation to protect individuals' personal data and we take it very seriously.
"Nearly 2,500 staff have completed the e-learning module so far. The University Executive Group has now set a deadline of Wednesday 31 July for all remaining staff to successfully complete it.
"This is essential training that is a requirement for everyone working here at Sussex. Please complete it as soon as possible to help us maintain the highest standards of data protection."
Staff who do not complete the GDPR e-learning module by the 31 July deadline will be subject to a series of measures including withdrawal from the discretionary pay review process and the suspension of IT privileges.
How to access the GDPR e-learning
Login via http://www.sussex.ac.uk/staffdevelopment/opportunities/staffdevelopmentcourses/onlinelearning
Username: [sussex user id*]@sussex.ac.uk
Password: regular ITS password
or
Login via http://sussex.learnupon.com/users/sign_in
Username: [sussex user id*]@sussex.ac.uk
Password: regular ITS password OR password1
* Please note that your user ID will be the combination of letters and numbers that you use to log on to your PC/Sussex systems (e.g. ab123) – and you will need to ensure that '@sussex.ac.uk' is added to the end of it when trying to log in to the training
You will need to complete the assessment at the end of the module, and exit the module correctly, to successfully finish the training. The final assessment can be accessed by clicking on the assessment button, as illustrated below: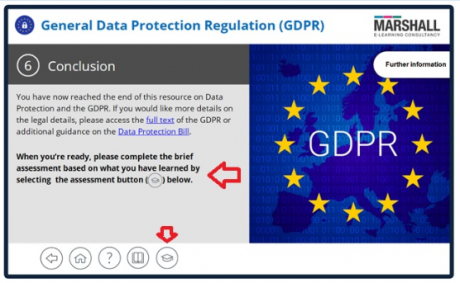 Once you have finished this, you should see your score – and the correct way to then exit the module is by clicking on the small grey 'x' in the corner of the module itself (rather than the 'x' in the corner of your browser):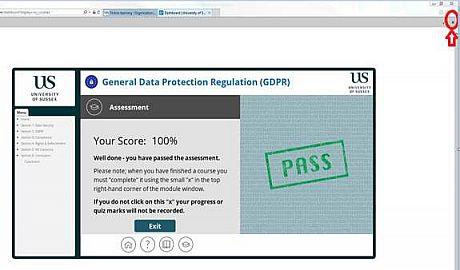 If you have any queries about the training or have any difficulties in accessing or completing the module, a detailed guidance sheet can be found on the Data Protection webpages. You can also contact the Information Management team.
---