The Sussex Colour Group are a team of researchers who have research expertise in Cognitive Neuroscience, Developmental Psychology and Vision Science. The team are:
Professor Anna Franklin, Group Leader

Anna has been investigating colour perception and cognition for the last 12 years, often taking a developmental approach. She joined the University of Sussex and established the Sussex Colour Group & Baby Lab in 2011. Prior to this she led a Baby Lab at the University of Surrey, and was a visiting scholar at the University of California, Berkeley. She is a Professor in the School of Psychology at Sussex and teaches Cognitive Development and Visual Perception to undergraduate and postgraduate students. She is a recipient of a 5 year ERC Starting Grant award. For more about Anna Franklin.
Dr. John Maule, Post-doctoral Research Fellow

John is focused on how our visual system manages to encode the colours around us efficiently. His areas of research include ensemble perception, the role of priors in perception in autism, and how the environment affects discrimination. His research uses behavioural and eye-tracking techniques. John completed his PhD Thesis, "Ensemble Perception of Hue" in the lab in 2015 and has been working as a post-doc on the CATEGORIES project since.
Dr. Lewis Forder, Post-doctoral Research Fellow

Lewis' research focuses on better understanding how human colour perception is affected by the way colours are categorised. He uses different approaches, such as EEG, continuous flash suppression, psychophysics, and individual differences to examine the way colour is processed in the brain. He previously worked with the CATEGORIES project from 2012-15 completing a PhD under the supervision of Anna Franklin. He subsequently continued his research under the supervision of Dr Ben Dyson at the University of Sussex, and then under the supervision of Professor Gary Lupyan at the University of Wisconsin, Madison, USA, before returning to work with the CATEGORIES project in 2017.
Dr. Leticia Alvaro Llorente, Post-doctoral Research Fellow

Leticia is focused on how colour vision deficiencies affect different aspects of colour perception. Leticia completed her PhD in Spain (2015) and has collaborated with other international institutions including the Sussex Colour Group in the UK, as well as in Portugal and South America. She has been working as a post-doc in the UK under the supervision of Dr. Sarah Waugh before starting to work with the Sussex Baby Lab in 2017.
Alice Skelton, PhD student

Alice joined the CATEGORIES project at the Sussex Baby Lab and Sussex Colour Group in 2012 as a Research Assistant whilst completing her MSc in Cognitive Neuroscience at Sussex. She is currently completing her PhD in infant colour perception. Alice has worked on a range of studies on different aspects of infant colour perception, the largest being a study on how pre-linguistic infants categorise colour, and how this relates to the biological mechanisms of colour vision.
Marie Rogers, PhD student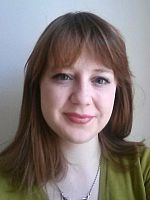 Marie is interested in the components of colour perception, particularly during development. Her areas of research include colour constancy, colour term acquisition and interaction between the dimensions of colour during childhood and infancy. She uses behavioural and eye-tracking techniques. Her current project looks at surface and illumination discrimination in adults. She completed her undergraduate and master's degrees in Psychology at the University of Bristol. Her master's dissertation investigated how our visual environment influences how we form colour categories.
Jessica Banks, Research Assistant

Jess completed her BSc in Psychology at the University of Sussex in 2014, before spending time developing her professional skills in various care, education, and neuropsychological research roles. She joined the Sussex Baby Lab and Sussex Colour Group in 2017 and will be working on the CATEGORIES project until February 2018. Jess is primarily responsible for ensuring the smooth running of our studies into infant colour vision deficiency and colour perception in autistic adults.
Teresa Tang, Research Assistant
Teresa completed her undergraduate degree in Psychology and Master's degree in Paediatric Neuropsychology at UCL. She has a general research interest in developmental neuroscience and paediatric neuropsychology. She has previously worked with UCL, GOSH and RHUL; investigating various areas of infant development using EEG. Teresa is currently a Research Assistant at the Sussex Baby Lab and Sussex Colour Group and is investigating how infants and adults process colour in the brain.
Katie Barnes, Undergraduate Student

Katie worked as a Junior Research Assistant whilst completing a research project over the summer of 2017, which involved developing and testing stimuli for the CATEGORIES project. This focused on colour categorisation in pre-linguistic infants. After this, she stayed on as a full-time Research Assistant until starting the third year of her BSc in Psychology with Cognitive Science. Katie will continue to work closely with the Colour Group and Baby Lab while completing her dissertation under the supervision of Professor Anna Franklin.
Alumni
Dr. Chris Racey, University of Wisconsin Madison
Dr. Xun He, University of Bournemouth
Dr. Christoph Witzel, Universitie Paris Descartes