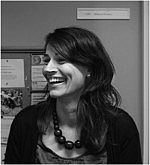 Dr
Rebecca Prentice
Biography
Rebecca Prentice is a Reader in Anthropology and International Development. She holds a BA in Anthropology from Cornell University, an MA in the Anthropology of Development and Social Transformation from the University of Sussex, and a DPhil in Social Anthropology from the University of Sussex. In 2010 she held an ESRC Postdoctoral Fellowship at Goldsmiths, University of London.
Rebecca's book, Thiefing a Chance: Factory Work, Illicit Labor, and Neoliberal Subjectivities in Trinidad, won the Society for the Anthropology of Work Book Prize in 2015.
Her co-edited book (with Geert De Neve) is Unmaking the Global Sweatshop: Health and Safety of the World's Garment Workers (2017, University of Pennsylvania Press).
Supported by C&A Foundation, Rebecca has written a technical and advocacy report, Workers' Right to Compensation for Garment Factory Disasters: Making Rights a Reality (2018).
Rebecca blogs at Culture & Capitalism.