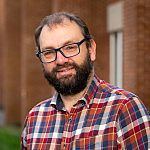 Dr
Phil Birch
Post:
Reader (Engineering and Design)
Other posts:
Director of Admissions and Recruitment (School of Engineering and Informatics)
Lecturer (Industrial Informatics and Signal Processing Research Group)
Senior Lecturer (Data Intensive Science Centre at the University of Sussex)
Location:
SHAWCROSS 2B11
Email:
P.M.Birch@sussex.ac.uk
Personal homepage:
tafj0

Telephone numbers
Internal:
8553
UK:
01273 678553
International:
+44 1273 678553

Research expertise:

3D Microstructures

,

Adaptive Optics

,

Biomedical Signal Processing

,

Biometric Imaging and Analysis

,

Coherent Optics

,

Computer Vision & Image Processing - Pattern Recognition

,

Computer Vision - Tracking

,

Deep learning

,

Diffractive Optics

,

Lasers - Biomedical Optics

,

Lasers and Optics

,

Light

,

Microscopy - Optical

,

Optical Computing

,

Optics - Biomedical

,

Optics - Imaging

,

Photonics

,

Polarisation

download vCarddownload vCard to your mobile
Biography
BSc (Dunelm) PhD (Dunelm) CPhys CSci
I completed a PhD at the University of Durham in 1999 on Liquid Crystal Devices in Adaptive Optics. The systems built used various types of liquid crystal spatial light modulators (SLMs) to correct for phase aberrations introduced by atmospheric turbulence. This is important for astronomical imaging and free space optical communications.
I have worked in industry developing rapid prototyping equipment, optical metrology systems and software engineering.
Since working at the University of Sussex I have been researching computer generated holograms (CGH), correlation pattern matching, and optical microscopy, as well as computer vision. I have also worked with industrial partners in image processing, object detection and tracking. I have an academic interest in locating and tracking objects in difficult images using methods such as deep learning convolutional networks.
I am a member of the IET and IOP.
Role
UG Admissions Tutor
Community and Business
I am a member of the Sussex branch of the IET.