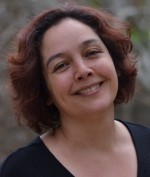 Dr
Pollyanna Ruiz
Post:
Senior Lecturer (Media and Film)
Other posts:
Head of the Department of Media and Cultural Studies (School of Media, Film and Music)
Location:
SILVERSTONE Room 203
Email:
P.Ruiz@sussex.ac.uk

Telephone numbers
Internal:
8189
UK:
01273 678189
International:
+44 1273 678189

Research expertise:
download vCarddownload vCard to your mobile
Biography
I have a BA from the University of Liverpool in English Literature and Language. I went on to gain an MA in Media and Cultural Studies (with distinction) from the University of Sussex where I also completed my doctoral thesis.
My book Articulating Dissent in the Public Sphere, which examines the ways in which coalition movements such as the anti-globalisation movement and the anti-war movement access the mainstream media, was published by Pluto Press in 2014.
I have been teaching in Higher Education Institutions since 2002 and am a Fellow of the Higher Education Academy. I won an Early Career Teaching Award in 2010 and my film 'You Can't Move History' won Best Film in the AHRC's Research in Film Awards in 2016.
Role
I am Senior Lecturer in Media and Communications. I am also Co Head of Media, Cultural Studies and Journalism.
My research explores the way in which the communicative strategies of social movements impact upon their representation in the mainstream media. This research adopts an inter-disciplinary approach and aims to develop a more flexible and nuanced account of the ways in which subaltern and official public spheres interconnect.
I am interested in supervising PhD candidates keen to develop their ideas around Protest, Social Networking and the Public Sphere.
Community and Business
I am the principle investigator of a project called 'You Can't Move History. You Can Secure The future': Engaging youth in cultural heritage which is an AHRC funded project analysing the political, economic and cultural struggles over the use and significance of the Southbank site.
Our project was motivated by the on-going exclusion of young people from heritage debates. Planning and heritage frameworks have not traditionally been receptive to the 'language' of young people who therefore have to adapt to discursive terrains that often disempower them. However the campaign to save the Undercroft offered a high profile example of young people successfully articulating their own claims to urban heritage
Our aim was to capture and communicate voices rarely considered or acted upon within the planning and preservation processes. The film was underpinned by two stands of arts and humanities research. The first engaged with questions surrounding the role of space and place in heritage activism while the second sought to understand how young people engaged with urban decision makers through the use of social media and film. These research questions provided a coherent framework for the film whilst privileging the authentic voices, aesthetics and ethics of the Undercroft community.
The film was presented to the cultural and art sectors during a workshop held in collaboration with the Heritage Lottery Fund, where it was received as a simultaneous creative and critical intervention. During the resultant discussions the Director of Policy and Development at the Southbank Centre said he could 'now see why you can't move history' and this openness to the alternative and creative modes of engagement favoured by young people has since fostered new collaborations between skaters and policy makers.
The film has been circulated widely through international skate media, academic conferences and heritage industry reports. It will shortly be archived by the Museum of London. As such 'You Can't Move History' represents an excellent example of collaboration between youth organisations, grassroots campaign groups, and cultural institutions which has been both informed by arts and humanities research, and which continues to bring arts and humanities research to the attention of wider audiences.It won Best Film in the AHRC's Research in Film Awards in 2016.
You Can't Move History can be found at https://www.sussex.ac.uk/video/pollyanna-ruiz/you-cant-move-history.mp4
You Can Make History can be found at https://www.sussex.ac.uk/video/pollyanna-ruiz/you-can-make-history.mp4
More information can be found at http://www.ycmh.co.uk
Qualifications
(2011) Fellowship of the Higher Education Academy
(2002-2010) AHRC funded PhD in Media and Cultural Studies from the University of Sussex
(1998-2000) MA in Media Studies from the University of Sussex
(1990-1993) BA (Hons) in English Literature and Language from Liverpool University