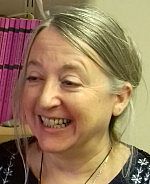 Dr
Tish Marrable
Biography
I was a late starter at university but have been delighted to find myself here. I get to explore things I find fascinating, and try and pass that passion on to students in my teaching.
Before entering academia I worked in the music business as a press officer, band manager and sound engineer. This sounds more glamorous than it actually was. Over the years I have had wide experience of working in social roles, including counselling, teaching, nursing, and social care.
I completed a DPhil in Social Work at Sussex, funded by the ESRC, titled On needing 'need': an exploration of the construction of children's 'additional needs'. The study took a 'child outwards' qualitative methodology to explore the perspectives of children, parents/carers and practitioners from education, health, youth justice and social care. A key finding was that the emotions that arise in working with children and their families shape practitioners' views of the child, and therefore the support that they receive. Feelings of fear, anger and helplessness were strongly evident in practitioners accounts of their work.
My current research interests around autism, death and dying, and contemporary shamanic practices, are drawn from my own personal experience as well as from previous research work.
Qualifications
2011: DPhil Social Work (University of Sussex)
2005: MSc Social Research Methods (University of Sussex)
2001: MSc Information Systems (University of Brighton)
2000: BA (hons) Social Policy (University of Sussex)
I am a Fellow of the Higher Education Academy.
Role
I am a senior lecturer in the Department of Social Work and Social Care and am active in research as well as teaching. My current research centres on wellbeing in death and dying: looking at contemporary shamanic spirit work at the end of life, and practitioner practices and wellbeing when communicating about death with autistic adults.
My teaching focuses around health and wellbeing, including spirituality, madness, and death and dying. I also teach social policy (with a particular interest in health and wellbeing) and research methods including evaluation practices. I teach and supervise undergraduates, postgraduates and research students.
I lead the undergraduate elective Wellbeing Pathway, four elective modules in the first two years of undergraduate study:
Spirituality, Wellbeing and Health:understanding practices and connections
Mental health and madness: exploring socio-cultural approaches
Migrant and refugee wellbeing: theory and practice
Exploring death and dying: cultural, theoretical, and practice perspectives
I consult on the use of NVivo, a qualitative data analysis software package, to the research community.
Qualifications
2011 DPhil Social Work
2005 MSc Social Research Methods
2001 MSc Information Systems
1999 BA (hons) Social Policy
PG Cert Higher Education.