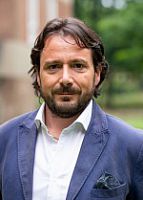 Mr
Alessandro Silvestri
Biography
Specialties
Internationalisation, business development, management consulting, executive training and coaching, business planning and strategy, project management.
Bio
Alex has developed nearly 20 years of experience in private sector development and internationalisation, performing as a consultant, adviser, trainer, and project manager. He supported numerous SMEs, as well as a number of large enterprises, across several different industry sectors, including construction, mechanical engineering, software and IT, telecommunications, maritime, environmental & recycling, chemicals, education, services, and more.
He started his career as a lecturer in International Business and International Marketing, at Sheffield Business School, then moved to private sector development, always retaining his links and involvement with academia back in the UK. Between Europe, ex CIS, Balkans and Middle East, Alex has developed vast knowledge and extensive experience in internationalisation strategy and in all steps that compose this key subject area. From internal to environmental analysis, from strategy development to planning, from implementation to control and review.
Alex also consulted and advised public sector institutions, specifically on policy development to support SMEs international growth. In this role, he acted as an International Trade Advisor for UK Trade & Invest (now DIT) providing capacity building, internationalisation advice and training to individual SMEs and clusters in the North East. He undertook a similar role when providing advice and support to Science Parks and Incubators, also in the North East.
Over the past six years, Alex has undertaken a considerable amount of training and consultancy within the Western Balkans region, delivering capacity building, competitiveness, international marketing and export promotion support, mainly delivered via donors' funded projects, EBRD, Suisse Development Agency, AFD, or directly engaged by SMEs. He also advised governments and Development Agencies, on how to structure and develop effective programmes to support SMEs international growth.
Alex has delivered extensive support and advice to the European Training Foundation (EU DG for Employment, Social Affairs & Inclusion), and to OECD, specifically on SME internationalisation, SME skills development, and public policy support to VET and SME skills development. He critically reviewed and analysed international training standards, with a view to assess state of play and quality levels of executive training and CPD programs throughout Europe, accession countries and Turkey.
Professional Memberships
Institute of Export and International Trade
Chartered Institute of Marketing
PraxisAuril
Education
MSc Marketing Management, Sheffield Business School.
MSc International Business, Sheffield Business School.
LLB Hons Law, La Sapienza University, Rome.