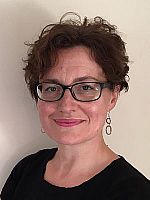 Ms
Fiona Courage
Biography
I have worked in Special Collections since 2000, becoming Special Collections Manager in 2005.
I have been an active member in professional groups and committees over the past few years and am currently Chair of the CILIP Rare Books and Special Collections Group. I have worked on various projects and been responsible for organising conferences and events relating to archival collections and educational access to such materials.
Role
Special Collections Mananger & Curator of the Mass Observation Archive I am responsible for the care and accessibility of the University's archives, manuscripts art and rare book collections situated in Special Collections in the Library. These collections include the Mass Observation Archive, the papers of Leonard & Virginia Woolf and Rudyard Kipling. My role includes ensuring the provision of research and learning support, and outreach activities relating to the collections. As Curator of the Mass Observation Archive I am also responsible for overseeing the continued acquisition of data through the Mass Observation Project and supporting reserach, teaching and dissemination of this unique collection.
Doctoral student I am currently studying for a Doctorate in Education in the School of Education and Social Work, using the Mass Observation Archive to examine the interaction of social class and higher education.