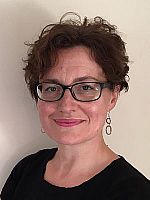 Dr
Fiona Courage
Biography
I have worked at the University of Sussex Library since 1994, working in first in Frontline Services and then in Special Collections until 2017 when I joined the Library's Leadership Team.
As Special Collecitions Manager (2003-2017) I oversaw the providing access and care for the University's unique and distinct collections. My special interest has been in using archives as a tool for education and outreach, and I was awarded a Sussex Teaching Fellowship in 2010 in recognition of my work in this area. My latter years in Special Collections concentrated on the transfer of our collections and services to The Keep, a state-of-the-art archival repository centre built in partnership with East Sussex County Council and Brighton and Hove City Council. I also managed the aquisition and cataloguing of the Lord Richard Attenborough Papers amongst other archives and worked with the British Library to set up The Keep as a Hub for the Unlocking Our Sound Heritage Project.
During this time I have also worked extensively with the Mass Observation Archive, and continue to be its Curator. I have given academic and public lectures on Mass Observation throughout the UK, Europe, Asia and the USA and have written several articles on the Archive. My Doctoral thesis (awarded 2018) used the Mass Observation Project to look at how perceptions of the value of higher education in the UK have altered in the last 70 years.
I have served on various professional committees, including the ARLIS VIsual Archives Committee, The Group for Literary Archives and Manuscripts and served as Chair on the CILIP Rare Books and Special Collections Group.
Role
As a member of the Library Leadership Team, I hold strategic responsibility for the Library's building, colletcions and content. This includes leading teams in Frontline Services, Content Delivery and Collectionslatter of which includes the University's Special Collections held at The Keep.
I am also responsiblefor the care and accessibility of the Mass Observation Archive in my role of Curator and continue to hold research interests in the methodological and ethics of using archives as qualitative data.
I am currently Chair of the JISC Digital Archives Committee and a Steering Group member of the Centre for Innovation in Research in Childhood and Youth (CIRCY) at the University of Sussex.