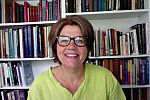 Dr
Tracy Anderson
Biography
Tracy is an art historian with a particular interest in royal patronage and in the art of empire during the late eighteenth and nineteenth centuries. Her full-time AHRC-funded doctoral thesis was awarded in 2006 and considered to what extent royal images and ceremonies helped forge a sense of the British 'Raj'.
She is currently working at the Brighton Pavilion researching the lives of royal servants. She has held a Paul Mellon postdoctoral fellowship and an internship in the Painting Department of the Royal Collection and has honours and masters degrees in Art History from the University of Sussex. During her doctoral study she also worked part-time for the journal Art History under the editorship of Professor Deborah Cherry and Professor Finten Cullen.
Tracy has worked as an associate tutor since 2003. As someone who came late to university herself, she believes passionately in access for all and in the value of support networks to facilitate academic progress.
Qualifications
2006 DPhil Art History (AHRC funded) University of Sussex. Thesis title: "The Crown and the Jewel: Images of Royalty and Viceroyalty in the making of Imperial India and Britain'
2001 MA Art History (Distinction) University of Sussex.
1994 BA (Hons) Art History University of Sussex
Lectures
Jul 2012 Manliness and the Victorian Viceroy. National Portrait Gallery, London

Apr 2010 Gender and Commemoration in nineteenth-century British India: A Case Study of Charlotte Canning. International Conference at Central Saint Martins College of Art and Design.
Feb 2010 Faces and fashion in Victorian Portraiture, Art History study day at Mayfield School
Feb 2009 Fashioning the Viceroy: Portraits of Edward Robert Lytton, Viceroy of India, Conference on British India at the University of York.
Mar 2008 Commemorating the Life and Death of Charlotte Canning, Conference of the Association of Art Historians, Tate Britain, London.
Feb 2007 Representing Royal Authority in Imperial India, University of Sussex.
Apr 2005 The Queen's Two Bodies: Regina Imperatrix and Queen of Great Britain, University of Sussex.
May 2003 The Indian Collections of Queen Victoria, University of Sussex,
Dec 2002 Queen Victoria and India: The portraits of Rudolph Swoboda at Osborne House, National Gallery, London.
Other undergraduate lectures for Sites of Art, Objects of Art, Stories of Art, Exhibition Studies, Department of Art History, University of Sussex include:
The Royal Collection; Art for the Nation: The National Portrait Gallery; The Visitor Experience at the Victoria and Albert Museum, The Nineteenth Century Print; The Albert Memorial; John Everett Millais; James MacNeill Whistler; Julia Margaret Cameron; Imperial Patrons; Debating Gender in the Nineteenth Century.
Role
2003- present Associate Tutor (Art History)