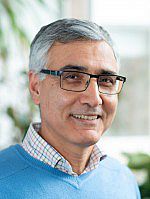 Prof
Majid Hafezparast
Biography
Employment
Senior Research Fellow, Institute of Neurology, University College London, 2001 - 2003.
Research Associate, Imperial College London, 1997 - 2001.
Research Fellow, University College London, 1993 - 1997.
Education
Postgraduate Certificate in Higher Education, University of Sussex, 2005
PhD in Molecular Genetics, MRC Cell Mutation Unit, University of Sussex, 1990 - 1993.
BSc in Biochemistry/Physiology; King's College London, 1987 - 1990.
Role
Biography
Professor Majid Hafezparast took his first degree at King's College London in Biochemistry and Physiology in 1990. He then moved to the Cell Mutation Unit at the University of Sussex to do his PhD, followed by postdoctoral research at Imperial College London and the Institute of Neurology, University College London.
Currently as a Research Laboratory Head and Professor of Molecular Neuroscience at the University of Sussex, his reseach is focused on understanding the underlying molecular and cellular mechanisms of motor neurone disease, with emphasise on defects in axonal transport and identification of biomarkers for diagnosis motor neurone disease. Motor neurone diseases are a group of debilitating and in some cases fatal diseases which are characterized by muscle wasting, paralysis and death.
For more information about our research see The Hafezparast Lab website.
Teaching
Degree Convenor:
Neuroscience
Neuroscience with Cognitive Science
Lectures:
Structure and Function in the Brain
Molecular Genetics
Introduction to Humam Disease
Human Genome Symposium
Genetic Manipulation and Molecular Cell Biology
Cellular and Molecular Neuroscience
Topics in Cell and Development Biology
Tutorials:
Academic Skills Tutor [Brighton and Sussex Medical School]
Academic Skills in Life Sciences
Cell Biology
Molecular Biology
Skills for Research Bioscientists (MSc)
Other roles
Progression and Awards Board (PAB)
PhD Thesis Committee
Bighton and Sussex Medical School Module 102 Review Board
Research
The research in Hafezparast Laboratory is focused on understanding the underlying molecular mechanisms of neurodegeneration and establishing molecular biomarkers of the disease, in particular the adult onset form of motor neurone disease, known as amyotrophic lateral sclerosis (ALS).
Motor neuron diseases (MNDs) are a group of neurodegenerative disorders that selectively target motor neurons of the brain and/or spinal cord. They strike at all stages of life and carry a lifetime risk of 1 in 500 in women and 1 in 350 in men in the UK. ALS, the most common form of adult-onset MND, is a progressive disease that affects motor neurons in the brain and spinal cord, leading to weakness and wasting of muscles and consequently loss of muscle movement and strength. Most people with ALS die of respiratory failure within 2-5 years after appearance of the symptoms. ALS is mainly a sporadic disease, but mutations in several genes cause familial ALS and contribute to the development of sporadic form of the disease.
Spinal muscular atrophy (SMA) is a genetic form of MND mainly affecting children. SMA is caused by a loss of spinal motor neurons. This leads to weakness and wasting (atrophy) of muscles used for movement. In severe cases of SMA muscles used for breathing and swallowing are also affected. There are several types of SMA distinguished by the pattern of inheritance, disease severity and features. Children with the most severe type of SMA rarely survive beyond 2 years of age as a result of sever breathing difficulties. Spinal muscular atrophy, lower extremity, dominant (SMA-LED) is a childhood form of SMA characterised by progressive weakness in the leg muscles. Children with SMA-LED exhibit abnormal gait with delayed motor milestones and difficulty in rising from a seated position. SMA-LED is frequently accompanied with cognitive impairment.