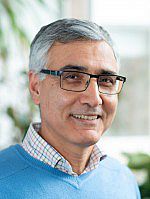 Dr
Majid Hafezparast
Biography
Employment
Senior Research Fellow, Institute of Neurology, University College London, 2001 - 2003.
Research Associate, Imperial College London, 1997 - 2001.
Research Fellow, University College London, 1993 - 1997.
Education
Postgraduate Certificate in Higher Education, University of Sussex, 2005
PhD in Molecular Genetics, MRC Cell Mutation Unit, University of Sussex, 1990 - 1993.
BSc in Biochemistry/Physiology; King's College London, 1987 - 1990.
Role
Biography
BSc (Hons) in Biochemistry/Physiology from King's College London (1990), followed by PhD in Molecular Genetics from Sussex University 1993).
Research Fellow at Imperial College London and UCL Institute of Neurology (1993-2003).
Currently as a Research Laboratory Head and Professor of Molecular Neuroscience at the University of Sussex, our reseach is focused on understanding the underlying molecular and cellular mechanisms of motor neurone disease, with emphasise on defects in axonal transport. Motor neurone diseases are a group of debilitating and some cases fatal diseases which are characterized by muscle wasting, paralysis and death within 2-5 years after being diagnosed.
For more information about our research see The Hafezparast Lab website.
Teaching
Degree Convenor:
Neuroscience
Neuroscience with Cognitive Science
Lectures:
Structure and Function in the Brain
Molecular Genetics
Introduction to Humam Disease
Human Genome Symposium
Genetic Manipulation and Molecular Cell Biology
Cellular and Molecular Neuroscience
Topics in Cell and Development Biology
Genetic Blood Disorders
Scientific Basis of Medicine: Genetics
Tutorials:
Academic Skills Tutor [Brighton and Sussex Medical School (BSMS)]
Essential Skills in Biomedical Sciences
Cell Biology
Molecular Biology
Skills for Research Bioscientists (MSc)
Molecular Cell Biology (Brighton and Sussex Medical School)
Liver and the Regulation of Metabolism (Brighton and Sussex Medical School)
Other roles
Human Tissue Authority (HTA) Designated Individual
Progression and Awards Board (PAB)
Exam scrutiny board (Chair)
PhD Thesis Committee
BSMS Module 102 Review Board
BSMS Module 302 Review Board
PhD Thesis Committees