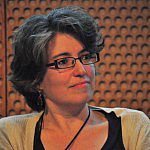 Dr
Pam Thurschwell
Biography
I began teaching at Sussex in 2007 having previously worked or studied at University College London, Cambridge and Cornell University. I am the author of Literature, Technology and Magical Thinking, 1880–1920 (Cambridge University Press, 2001) and Sigmund Freud (Routledge Press, 2000; second edition, 2009). I have recently published Quadrophenia and Mod(ern) Culture with Palgrave Macmillan. I am the co-editor with Leah Price of Literary Secretaries/Secretarial Culture (Ashgate Press, 2005); with Nicola Bown and Carolyn Burdett of The Victorian Supernatural (Cambridge University Press 2004), and with Sian White of a special issue of Textual Practice on Elizabeth Bowen (2013). I am currently working on a book manuscript on modern adolescence and time, titled Keep your Back to the Future.
I've written on a wide variety of writers and artists including Henry James, Bob Dylan, George Eliot, Elvis Costello, Bruce Springsteen, Morrissey, and Daniel Clowes. Recent articles are on Henry James and Oscar Wilde in The Henry James Review, Carson McCullers and Toni Morrison in English Studies in Canada 38:3-4, and Freud and Willa Cather in Blackwell's Concise Companion to Psychoanalysis, Literature and Culture (eds. Laura Marcus and Ankhi Mukherjee). In July 2014, I organised a one-day symposium on the album and film Quadrophenia via the Centre for Modernist Studies at the University of Sussex, and in October, 2016 a symposium, Late and Later James/James at Lamb House, in conjunction with the National Trust, that took place at Henry James's house in Rye.
For potential Phd students: I especially welcome Phd proposals that relate to my interests in the modernist and contemporary novel, and the theory and history of childhood and adolescence. I am interested in work at the intersection of late 19th, 20th, and 21st century literature, and one or some of the following: psychoanalytic history and theory, queer cultural theory, the history of technology, popular music, economic/Marxist theory, and the Anthropocene. I am not interested in proposals that focus solely on YA literature.
Recent publications: Editor, Quadrophenia and Mod(ern) Culture. Palgrave Macmillan, 2017. https://www.amazon.co.uk/Quadrophenia-Culture-Palgrave-Studies-Subcultures/dp/3319647520

"I don't think we know we are on this song" reflecting on David Bowie's death, in the Los Angeles Review of Books: https://lareviewofbooks.org/essay/i-dont-think-we-know-we-are-in-this-song
On Henry James's villainess, Madame Merle, from The Portrait of a Lady: http://avidly.lareviewofbooks.org/2016/10/14/team-madame-merle/
On Elena Ferrante and Doris Lessing, from an MLA panel on Ferrante, 2017: http://asapjournal.com/the-future-might-pour-in-a-different-shape-doris-lessing-and-elena-ferrante-pamela-thurschwell/
Role
Reader in English