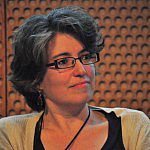 Biography
I began teaching at Sussex in 2007 having previously taught at University College London. I've also taught and/or studied at Cambridge, Cornell, Yale and Sussex (I did my MA here in 1990-91).
Role
Senior Lecturer in English
I have worked on the intersection of psychoanalysis, interest in the supernatural at the end of the 19th century and the beginning of the 20th, and new technologies. I have also published on popular culture and film. My current project, about representations of adolescence in literature and culture, is tentatively titled Keep your back to the Future: Adolescence and Anachronism.
Thurschwell, Pam (2013) The ghost worlds of adolescence. In: The Daniel Clowes reader: ghost world, nine short stories, and critical materials - comics about art, adolescence, and real life. Fantagraphics Books, Seattle. ISBN 9781606995891 (In Press)
Thurschwell, Pam (2013) Dead boys and adolescent girls: unjoining the bildungsroman in Carson McCullers' 'The member of the wedding' and Toni Morrison's 'Sula'. English Studies in Canada, 39. ISSN 0317-0802 (In Press)
Thurschwell, Pam (2012) Freud's stepchild: adolescence in psychoanalytic history. In: History and psyche: culture, psychoanalysis, and the past. Palgrave studies in cultural and intellectual history . Palgrave Macmillan, Basingstoke. ISBN 9780230113367
Thurschwell, Pamela (2011) The typist's remains: Theodora Bosanquet in recent fiction. Henry James Review, 32 (1). pp. 1-11. ISSN 02730340
Thurschwell, Pam (2010) The ghost worlds of adolescence. In: Popular ghosts: the haunted spaces of everyday culture. Continuum, New York and London, pp. 239-250. ISBN 9781441164018
Thurschwell, Pamela (2008) Forecasting falls: Icarus from Freud to Auden to 9/11. Oxford Literary Review, 30 (2). pp. 201-233. ISSN 0305-1498