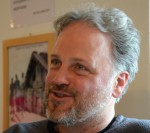 Dr
Martin Spinelli
Post:
Senior Lecturer in Media & Cultural Studies (Media and Film)
Location:
SILVERSTONE SB 200
Email:
M.J.Spinelli@sussex.ac.uk
Personal homepage:
www.martinspinelli.com

Telephone numbers
Internal:
2548
UK:
01273 872548
International:
+44 1273 872548

Research expertise:

Aesthetics

,

arts interviewing

,

audio drama

,

Broadcast News

,

Broadcasting History

,

Digital Humanities

,

emergent media

,

ethnography

,

Journalism

,

literary journalism

,

media history and theory

,

media maker ethnography

,

memoir

,

podcasting

,

Poetics

,

practice as research

,

practice led research

,

radio

,

radio drama

,

Radio Studies

,

Socio-cultural impact of new media

,

Sound Art

,

Sound studies

download vCarddownload vCard to your mobile
Biography
Martin Spinelli began a career in radio as a teenager. In his twenties as a reporter, anchor and producer in Buffalo, New York, he produced natinoal award-winning news features and documentaries for public radio as well as the nationally acclaimed literary series LINEbreak. In the mid-1990s he produced cutting-edge pieces heard on innovative stations around the world, as well as on BBC Radio 3 and Radio 4. Both his benchmark radio art series Radio Radio and LINEbreak are included in the permanent collection of the Museum of Television and Radio in New York while all of his radio work and media research are archived in the Martin Spinelli Collection at the University at Buffalo Libraries.
Martin holds degrees from the University of Sussex and Virginia Tech as well as a PhD from Buffalo. He was the founder of the Academic Radio Program at the City University of New York at Brooklyn College where he produced the AIDS-informational soap opera Welcome to America broadcast on Radio Africa International. His many essays about media art, law and history have been published in anthologies as well as scholarly journals such as Postmodern Culture, Convergence and Object.
Role
Senior Lecture teaching in Creative and Critical Media Practice and Journalism.
Community and Business
Audio Production Awards (hosted by the BFI): Judge
Electronic Poertry Center: Audio Editor
PennSound: Contributing Editor
Member: Radio Studies Network
Contributor: Rocket FM