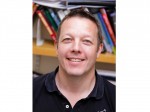 Prof
John Spencer
Biography
Sussex graduate (CEur 1990, 1st class Hons)
PhD Strasbourg, postdoctoral studies ETH, Zurich.
10 years in pharma industry.
5 years in first academic position (Reader, Greenwich).
4 years Reader then Professor (Sussex).
Role
Professor of Bioorganic Chemistry. Other roles:
DRKE Life Sciences: Director of Research and Knowledge Exchange.
Previously PhD Convenor for Dept of Chemistry.
Year abroad advisor.
Steering group member for Pharmacy and Medchem courses.
External roles:
Editorial board Advisory Member for Future Medicinal Chemistry.
Chair of RSC small grants committee.
Community and Business
Consultancy roles with pharmaceutical clients.
Engaged with local sixth forms teaching chemistry.
PhD grants held with AstraZeneca (current), EPSRC, Thai Government.
Research Fellows funded by NPRF, Worldwide Cancer Research.