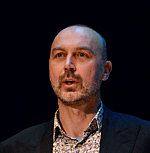 Prof
Paul Statham
Post:
Professor of Migration (Geography, Sussex European Institute)
Other posts:
Director of Sussex Centre for Migration Research (Sussex Centre for Migration Research)
Location:
ARTS C C220
Email:
Paul.Statham@sussex.ac.uk

Telephone numbers
Internal:
3374
UK:
01273 873374
International:
+44 1273 873374

Research expertise:
download vCarddownload vCard to your mobile
Biography
Paul was formerly a Professor and Research Director in Sociology Politics and International Studies at the University of Bristol (2006-2012), and the University of Leeds (1999-2005), where he was made Chair in 2005. He was a researcher at the Wissenschaftszentrum Berlin (WZB) (1996-2000) and prior to that conducted his doctoral research at the European University Institute (EUI) in San Domenico di Fiesole, Firenze.
Role
Paul Statham is Professor of Migration and Director of the Sussex Centre for Migration Research (SCMR) in the School of Global Studies at the University of Sussex, UK. He is Editor-in-Chief of the Journal of Ethnic and Migration Studies (JEMS). He is also a deputy Director of the Centre for innovation and Wellbeing. For the Spring semester 2017, he holds the position of Distinguished Professor at Advanced Research Collaborative at the CUNY Graduate Center in New York.
Paul is a political sociologist. His current research is on two fields. First, he studies the political accommodation of Islam and Muslim minorities in their European societies of settlement (EUF7 EurIslam: "Finding a Place for Islam in Europe: Cultural Interactions between Muslim Immigrants and Receiving Societies". Second he examines marriage, lifestyle and retirement migration between Europe and SE Asia (Thailand) with a focus on health and ageing (British Academy-Newton Fund: "The Search for a Better Life: How Partnerships with Westerners shape Thai life chances, social relationships and development").
Paul has written a number of collaborative monographs, edited volumes, more than 25 articles in refereed journals, and 30 book chapters. The books include Contested Citizenship (Minnesota UP 2005), The Making of a European Public Sphere (Cambridge UP 2010), and The Politicization of Europe (Routledge 2013). His earlier research focused on cross-national comparative approaches to migration, ethnic relations and citizenship in Europe, and the emergence of a transnational public sphere for the European Union. This programme of international collaborative research has been supported by twelve large grants from academic funding bodies, including the ESRC, British Academy, Leverhulme, EU framework programmes and ESF.
In 2015, he established the Sussex-Mahidol Migration Partnership (SMMP - www.sussexmahidolmigration.co.uk) to build a capacity in migration research between Europe and SE Asia. In 2016, a further partnership the Europe Asia Migration Network (EAMiN – www.eamin.org) was established between migration centres in the two regions, including the SCMR, MMC (Mahidol, Thailand), ARI (NUS Singapore), PRIO (Norway), BIM (Humboldt Berlin, Germany) and CUHK (Hong Kong).
Paul convenes the Masters MA Migration Studies and MA Migration and Global Development and the Doctoral Programme in Migration at Sussex. He is also working on the establishment of a joint Masters with Mahidol University (Thailand) MA Migration, wellbeing and Reproductive Health.
Community and Business
Paul is a member of the Home Office's Voluntary Returns Steering Group.