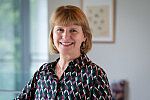 Dr
Linda Morrice
Biography
After completing her BA(Hons) in Social Anthropology at the University of Sussex Linda worked in adult and community education for almost twenty years before returning to academia. She completed a PgDip in Lifelong Learning (Birkbeck, University of London, 2004), an MA in Education Studies (University of Sussex, 2005) and a Doctorate in Education (University of Sussex, 2010). Her Doctoral research was published by Trentham Books in 2011 - Being a refugee: learning and identity. A longitudinal study of refugees in the UK.
Linda's research is concerned with the education and learning of forcibly displaced people. Her broad research agenda seeks to understand how and in what spaces people learn to belong and thrive, and where and how they learn to become alienated and marginalised. Her research is inherently interdisciplinary and includes an interest in identities and social practices such as citizenship and cultural values.
Doctoral Supervision
My supervision interests are focused on the intersection of education and learning with refugee/migration studies, with a particular focus on:
Everyday lives of refugees, refugee families and communities
Informal learning and everyday pedagogies

Belonging, integration and structures of exclusion

Formal and non-formal education systems


Support for children and young people with refugee backgrounds and unaccompanied children
In terms of methodologies I have a particular interest in:
Participative approaches to working with refugee communities

Qualititative methodologies, including creative and narrative methods and life history
I currently supervise the following Doctoral students and welcome PhD inquiries in my areas of interest:
Carmen Pon: Peacebuilding and Social Justice in Elite Private Schools: A case study of a Jordanian secondary school hosting forced migrants (

Chancellor's International Scholarship

)
Saja Al-Nahi: Education Strategies in the Kurdish Region of Iraq: Post-Compulsory Education for Syrian Refugees and Displaced Iraqis
Emma Soye: Learning my place: an ethnographic exploration of contextual influences on young migrant, refugee, and host integration in UK schools (Second supervisor)
Prow Vongtrirat: Hidden Mother: An analysis of urban mothers in Bangkok, Thailand
Marie Tuley

:

The gendered impact of migrant integration policies in three regions of Belgium (

ESRC Scholarship

)
Anna Wharton: Unaccompanied children and young people: Constructing belonging in community through learning (

Chancellor's International Scholarship

).



Marianela Barrios-Aquino: Migrating into citizenship. The migrant's journey to citizenship.
Patrick Keane: Stitching together the fragments of resistance: Popular education and social movement learning in southwest Colombia(

ESRC Scholarship)

(Second supervisor)
Sayanti Banerjee: The identities, lives and experiences of second generation Bangladeshi and Pakistani women in Southern England (Second supervisor).
Role
Linda is a Senior Lecturer in Education. She convenes and teaches Refugee Education and Development and Academic and Research Skills on the MA in International Education and Development. She supervises a number of Doctoral scholars working in the field of education and migration.

She is on the management committee of Sanctuary on Sea: Brighton and Hove City of Sanctuary, and a Trustee at the Friends Centre, an independent adult education centre.
She is currently PI on one research award:
Assessment of education strategies and interventions adopted in Jordan as a response to the Syrian crisis. (With co-researchers: Mariam Attia, Marcos Delprato, Yusuf Sayed and Gillian Hampden-Thompson). Sponsor: Queen Rania Foundation. (2018 - 2020).
Recent research awards include:
AHRC grant: Cultural Values from the Subaltern Perspective: A Phenomenology of Refugees' Experience of British Culture (with Sally Munt). This research explored refugee women's understandings of 'Britishness', 'British' identity and

citizenship.

(2014).
Community and Business
Linda has a number of voluntary roles in the local community. She has been a Trustee of the Friends Centre, an Independent Adult Education Centre since 2007; she works in an advisory capacity for Brighton and Hove's English for Speakers of Other Languages (ESOL) Group which is working to develop a local ESOL strategy. She is also on the management committee of Brighton and Hove City of Sanctuary which works with others to make the city a safer and more welcoming place for refugees and asylum seekers.
Over the past two years she has been working with the UK Home Office to revise and update the Home Office Indicators of Integration framework 2019.