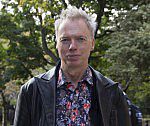 Prof
Andy Clark
Biography
Andy Clark is Professor of Cognitive Philosophy at the University of Sussex. He is the author of several books including Surfing Uncertainty: Prediction, Action, and the Embodied Mind (Oxford University Press, 2016), Mindware (Oxford University Press, Second Edition 2014), Supersizing the Mind (Oxford University Press, 2008), and Being There: Putting Brain, Body And World Together Again (MIT Press, 1997). Academic interests include artificial intelligence, embodied and extended cognition, robotics, and computational neuroscience. He is currently PI on a European Research Council Advanced Grant 'Expecting Ourselves', looking at Consciousness and the Predictive Brain.
Community and Business
Occasional academic consultant for Google, UK. Board member Cyborg Nest Ltd.