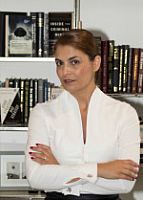 Prof
Vasiliki Bamiatzi
Biography
I am a Professor of Strategy and International Business at the University of Sussex Business School, Marketing and Strategy department and member of the Strategy, International Business and Entrepreneurship (SIE) group.

I hold a BSc in Business Administration, and an MBA both from the Athens University of Economics and Business. I obtained my PhD in 2009 from the Manchester Business School, where I also worked as a post-doctoral fellow of International Business. Prior to taking up my role at USBS in October 2019, I have worked at the University of Liverpool Management School as an Associate Professor, where I also held the positions of Director of Education and Director of Research, and at the Leeds University Business School. Before joining academia, I worked for six-years as a Business Analyst, Small Business and Regional Development Consultant.

My research and teaching span a range of topics in Strategy, Entrepreneurship, and International Business. I have a particular interest on the impact of the external environment on strategy, investment decisions and firm performance. My research has been published in international peer-reviewed journals, such as Strategic Management Journal, International Business Review, International Small Business Journal and Small Business Management, among others. My work has been presented in international conferences on several occasions.

I am currently serving as Associate Editor for the Rutgers Business Review, and as Editorial Board Member for the Journal of Business Research, and the guest editor for the Special Issue on Risk Mitigation and Management Strategies of Multinational Enterprises, at the Journal of World Business.

Since 2012, I have been a Research Associate at the Georgia State University (USA), and a visiting member of the Center for International Business Education and Research (CIBER-GSU). I have also acted as a Small Business Charter Nominated Assessor for the UK Association of Business Schools.
Role
Professor of Strategy and International Business
Community and Business
Editorships & Editorial Board Memberships
Co-Editor for the special issue in the Journal of World Business on "Risk Mitigation and Management Strategies of Multinational Enterprises" (2018-2019)

Rutgers Business Review (RBR) (Associate Editor , 2016 - present)
Journal of Business Research (JBR) (Editorial Board Member , 2016 - present)
International Studies of Management & Organization (Editorial Board Member , 2016 - present)
Visiting Positions
Research associate at the Center for International Business Education and Research (CIBER), J. Mack Robinson College of Business, Georgia State University, Atlanta, USA (2012 - Present)
Visiting Scholar at Grenoble Ecole de Management - Business School in France (2012 - 2017)
Visiting Scholar at the International Business Center (IBC), Eli Broad College of Business, Michigan State University, USA (2009) (2009 - 2010)
Professional Body Memberships
Higher Education Academy, UK (Fellow, 2014 - present)
The Association of Business Schools (ABS) (Small Business Charter Nominated Assessor, 2012 - present)