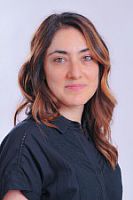 Ms
Michela Bello
Biography
Michela Bello is a PhD researcher at SPRU, University of Sussex. Her current research focuses on the impact of a firm's participation in global value chains on productivity and innovation. Michela is also employed as an analyst in the OECD Directorate for Science, Technology and Innovation, where she is responsible for the publication of innovation statistics following the OECD/Eurostat Oslo Manual guidelines and in charge of a study of scientific authors, which provides evidence on the way scientific activity takes place and its impact. Previously, she worked as a researcher in UNIDO (2009-2016) where she was involved in various projects aimed at assessing the impact of foreign direct investment in developing countries as well as at measuring and fostering firm innovation activities. She holds a MSc in Economics and Social Sciences from Bocconi University.
Qualifications
MSc in Economics and Social Sciences, Bocconi University.
BSc in Business Administration, Bocconi University.