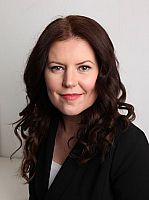 Dr
Roxana Bratu
Biography
Roxana joined the University of Sussex in October 2018. She was previously postdoctoral researcher at University College London, School of Slavonic and East European Studies where she coordinated the activity of the FP7 ANTICORRP project. Roxana holds a PhD in Sociology from the London School of Economics and Political Sciences, an MSc and a BSc in Sociology from the University of Bucharest, Romania. Before embarking on a PhD, she was visiting fellow at the Centre for Criminology at the University of Oxford.
Role
Lecturer in Corruption Analysis
Community and Business
Roxana regularly comments on current affairs related to her research for various British and international media outlets such as 'The Globalist 24' and 'Radio World Service'. She have been involved in providing training for senior civil servants in the area of anti-corruption and acted as expert witness in various cases in London courts. She is an active consultant in the area of security and political risk for the private sector.