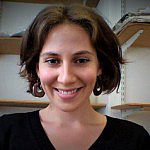 Dr
Flora Derounian
Biography
Flora came to the University of Sussex in 2018 from the University of Bristol, where she taught in Modern Languages. Flora was previously a lecturer at the University of Gloucestershire in Sociology and Liberal Arts.
In France, Flora taught at the Université Sorbonne Nouvelle Paris III, and the Université Paris-Est Créteil.
Her research is currently focused on the transnational work of women religious in post-World War Two Europe. She specialises in oral history reseach.
Flora's PhD explored women's work in post-World War Two Europe, studying oral history interviews and filmic representations.
Flora specialises in Women's History, Gender Studies, European History in the post-World War Two period, Visual Culture, and Gender and Language.
Role
Flora is a Lecturer in Modern Languages in the Sussex Center for Language Studies.