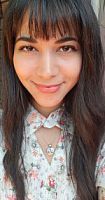 Miss
Ahlem Faraoun
Biography
I am an interdisciplinary scholar interested in bridging social theory, linguistics and political science. My PhD thesis explores utopian rhetoric in the political discourse of technocracy and social progress. I am using rhetorical and semantic analysis as a methodological approach. My project is jointly supervised by Prof. Dean Wilson and Dr. Tony Roberts.
I have a background in theoretical and applied linguistics, literary criticism, cultural studies and political philosophy. My Master's dissertation applied Gramsci's theory of cultural hegemony in the analysis of a contemporary novel, looking at how the ideological structures of hegemony expand from a domestic to an international level within the novel's narrative structure. This led me to develop a keen interest in using the interpretive approach in conjunction with social and political theory to analyze the discursive dimension of social phenomena in a non-fictional context, under the paradigm of social constructionism.
Qualifications
Master of Arts in English literature and civilization, University of Algiers II, Algeria.
Bachelor of Arts in English language, literature and civilization, University of Djillali Liabes Sidi Bel Abbes, Algeria.
Activities
Conference presentations
"Ressentiment and Mimetic Desire as an Explanatory Framework for Emotions in Contemporary Postcolonial Relations: The Case of Japan-South Korea Trade Dispute," BISA Emotions in Politics Workshop, 09/12/2019, London South Bank University.
"The Techno-Political Dilemma: Ambivalent Narratives of the Modern Japanese Nation-State," Lancaster Summer Conference, 02/07/2019, University of Lancaster.
"Narratives of Techno-Nationalism and Techno-Globalism: Japan's Foreign Policy Roles under the Abe Administration 2013—2020," SPRU PhD Forum, 17/05/2019, University of Sussex.