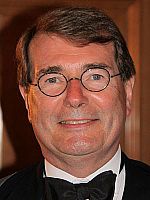 Robert Gillespie of Blackhall O.B.E.
Biography
Between 1970 and 2014, Bob held international positions as a consultant with McKinsey & Co., manager and chief executive of industrial divisions and subsidiaries in Europe and in the United States of the Air Liquide Group, Péchiney Group and ITT Industries Inc. He was chairman and a board member of certain international subsidiaries.
At ITT Industries from 2000, Bob deployed the corporate Lean Six Sigma continuous-process-improvement programme in Europe and in China as deployment Champion. From 2004 to 2014, as 'Master Black Belt' in Lean and Six Sigma with U.S. consultants, The George Group, and then with Rath & Strong, and later as Chief Executive in France of the Lean Six Sigma Institute, Bob wrote extensively, authored training material and trained and certified over one thousand Green, Black and Master Black Belts in Europe, the U.S.A., Middle East and China. During this time, he implemented complex improvement deployments on behalf of his clients.
Between 1991 and 1995, he was Vice Chairman of the British Non-Ferrous Metals Federation and Chairman of the French Federation of Non-Ferrous Foundry Owners (STCA FEDEM). From 2004 to 2007, and, again, from 2013 to 2014, he was chairman of the French Branch of the British Institution of Mechanical Engineers of which he is a Fellow and Gold Medalist. In 2013, he became a Freeman of the City of London and a Liveryman of the Worshipful Company of Engineers.
In 2005, he was chairman of the British Luncheon-1916 in Paris; chairman of the British Community Committee in Paris from 2006 to 2009, and trustee of the Thomas More Institute in Paris from 2007 to 2012.
Bob was awarded the O.B.E. in the 2005 Birthday Honours for services to British Engineering in France.
Role
Doctoral Researcher - Lecturer in Management - Process-Improvement Science
ORCID 0000-0002-9119-5135
Qualifications
O.B.E., B.Sc. Hons (Sussex), M.B.A. (INSEAD), M.A. (Sussex), Eur.Ing., C.Eng., F.I.Mech.E.
Activities
Writing; Bagpipe music; Golf; Boating; Prison Visiting