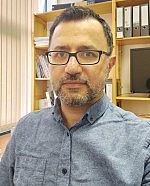 Dr
Arash Moradinegade Dizqah
Biography
Dr Arash M. Dizqah is currently a lecturer in Mechanical Engineering at the School of Engineering and Informatics, where he joined to after about 5 years of experience as a lecturer and post-doctoral research fellow respectively with Coventry University and University of Surrey. He is also a member of the Dynamics, Control and Vehicle Research Group (DCVRG) at University of Sussex.
He received BSc and MSc degrees in electrical engineering from Sharif and KN Toosi Universities of Technology, Tehran, Iran, in 1998 and 2001, respectively, and a Ph.D. degree from Northumbria University, U.K., in 2014. Before starting his PhD, he used to work as an embedded systems (software and hardware) developer and architect for about 10 years.
His research interests lie in control and optimisation with applications in transportation and renewable energy systems. He is particularly interested in real-time implementation and experimental testing of nonlinear optimisation-based controllers for the applications like electric/hybrid vehicles, connected and autonomous vehicles (CAVs) and microgrids. The optimisation-based strategies, such as model predictive controllers, handle nonlinearities, uncertainties and constraints in a systematic fashion.
Arash is a founding member of the Smart Vehicles Control Laboratory (SVeCLab), within DCVRG, focusing on model-based optimal design and energy management of hybrid electric/electric vehicles and advanced control strategies for connected autonomous vehicles.
His Google Scholar is available here
Community and Business
He is a member of institute of electrical and electronics engineering (IEEE) and institution of engineering and technologies (IET).