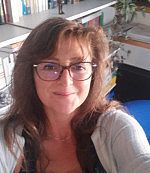 Dr
Rachel Stenner
Biography
I went to a comprehensive school and community college in Somerset. After a false start studying French and German, I settled into my studies at the University of Kent, doing a BA in English Literature then an MA in Postcolonial Studies. This MA was funded by the Arts and Humanities Research Council. After graduating, I worked in the legal sector for several years whilst longing to be back in academia. So I returned to study as a mature student at the age of 31. I completed a self-funded MA in English Literature part time, followed by my PhD in Early Modern Literature at the University of Bristol. My PhD was fully funded by a University Postgraduate Research Scholarship. I then became a Teaching Fellow in Early Modern Literature at Bristol for a year, before moving to the University of Sheffield for three years as a Teaching Associate in Renaissance Literature. In 2018, I joined the University of Sussex as Lecturer in English Literature 1350-1660.
My research is about the literature and culture of the late medieval and early modern periods, with a particular emphasis on Tudor writers, print culture, and book history. My monograph, The Typographic Imaginary in Early Modern English Literature (Routledge, 2018) analyses authors from William Caxton to Alexander Pope. This book asserts that writers develop a shared set of techniques when they depict printing houses, printers, text-making technologies, and other phenomena of the world of print. The writers I study here engage what I call the typographic imaginary to evaluate their place, and the place of the literary, in a rapidly changing media environment. I have also recently edited a collection of essays for The Manchester Spenser. Rereading Chaucer and Spenser: Dan Geffrey with the New Poete (Manchester University Press, 2019) offers fresh approaches to the relationship between these two central poets in the English tradition.
My next major project is a monograph on the mid-Tudor satirist, William Baldwin, author of, amongst other things, a novel about speaking cats. With colleagues from Sheffield, I have adapted Beware the Cat for performance. In 2019, the production will take place in Brighton, Stratford-Upon-Avon, and Leeds. You can find out more about this project on its blog here and listen to me speaking about it via the Beyond Shakespeare podcast. This area of my work has generated my growing interest in early modern animal studies.
I am the founder member of the Print Culture, Agency, Regional Identity network. This is a collaborative multidisciplinary project that explores how print culture in the handpress period articulated regional identities in the British Isles. The life-writing of early modern printers and booksellers is my focus here, building on my interest in the genres that workers in the book trade adopt to explore literary labour, and to define their professional identities. An initial space for the presentation of research was a conference organised by the network at Sheffield Hallam University in September 2019: The People of Print: Printers, Stationers, and Booksellers 1500-1800. We are also currently writing a collection of essays.
I am the Director of the Centre for Early Modern and Medieval Studies here at Sussex, and a member of the Society for Renaissance Studies; I sit on the Publications Committee of the Printing Historical Society, and am a member of the Steering Group of the Centre for Printing History and Culture. I regularly review books on early modern, medieval, and book historical subjects; you can read more about this work here.

In addition to the universities at which I have studied and worked, funding for my research has come from various bodies: the Modern Humanities Research Association, the Society for Renaissance Studies, the Antiquarian Booksellers Association, the Higher Education Innovation Fund, the Arts and Humanities Research Council.
Don't hesitate to email me if you would like to discuss PhD supervision on any of the above or related topics.
Role
Lecturer in English Literature 1350-1660