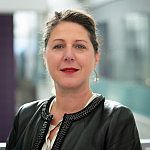 Dr
Zahira Jaser
Biography
Dr Zahira Jaser is Assistant Professor at the University of Sussex Business School. She gained her PhD at Cass Business School.
Her research focuses on multilevel relationships in organizations, and leadership processes during change.
By studying managers in their position concurrently of leaders and followers, she has run large qualitative studies in financial institutions, and written insightful research.
Her working paper have repeatedly received recognition at the Academy of Management:
2019 'Bounded Authenticity during Strategic Change' – Nominated for William H Newman Best Paper from Dissertation Award (ODC Division)
2018 'Seeking Transparency whilst Embracing Ambiguity: Processes of Leadership and Sensemaking during Strategic Change' – Awarded Best Paper from Dissertation (ODC Division)
2017 'Pulled in Two Directions, A leader to Some and a Follower to Others' – Awarded Best Paper (OMT Division)
Her PhD dissertation: 'The intermediate leader, pulled in two directions: in concert a leader to some and a follower to others', has recently been nominated for the Grigor McClelland Award.
She is the sole editor of the book 'The Connecting Leader, Serving concurrently as a Leader and a Follower'based on the concept of 'the 'Intermediate Leader' at the core of Dr Jaser's dissertation. The book (in press, due in 2020, IAP publisher) is part of a leadership series founded by James Meindle (Romance of leadership), as a platform to publish ground-breaking leadership research. As a testament of the contribution of this idea to the wider field of leadership contributors include amongst others Alex Haslam, Mats Alvesson, Ann Langley, Robert Lord, Ron Riggio.
Dr Jaser enjoys teaching Organizational Behaviour, Leadership, Human Capital and Performance, at Undergraduate, Postgraduate and MBA level. She is also involved in Executive Education, as she used to be a manger herself. The academic career is her second career, she was a banker for 15 years at JP Morgan and Barclays before taking a MSc in Organizational Behaviour at the LSE, to then proceed with her PhD.