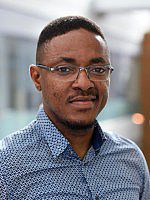 Dr
Chidiebere Ogbonnaya
Biography
Dr Chidiebere Ogbonnaya (better known as Chidi) is a Senior Lecturer in Organisational Behaviour/Human Resource Management at University of Sussex Business School. Prior to joining University of Sussex, Chidi was a lecturer in Human Resource Management at Norwich Business School, University of East Anglia, and the Eastern ARC Research Fellow in Quantitative Social Science. Chidi's role as the Eastern ARC Fellow was to develop new interdisciplinary research initiatives across three institutions (Universities of East Anglia, Kent, and Essex) and facilitate research collaborations among quantitative social scientists.
Chidi obtained his Bachelor's degree in Nigeria, where he was born and raised. He has an M.Sc. in Occupational Health and Safety Leadership (University of Nottingham), M.A. in Higher Education Practice (University of East Anglia) and a PhD in Management Research (University of East Anglia). He is a Fellow of the Higher Education Academy and holds a Postgraduate Certificate in Higher Education Practice from University of East Anglia. Chidi is a member of several bodies including Academy of Management, British Academy of Management, Nigerian Institute of Management, European Academy of Management, and European Association of Work and Organizational Psychology. He is also an ad-hoc reviewer for a number of journals (e.g., Journal of Management Studies, Human Resource Management Journal, Human Relations, etc. ) and has recently served as a Guest Editor for Applied Psychology: An international Review Special Issue on "Why, when and for whom are job resources beneficial." He serves on the editorial boards of Human Resource Management Journal, Work, Employment and Society and African Journal of Management.
Chidi's research can be defined in terms of employment relations, high-performance work systems, job quality, employee wellbeing, and organizational performance. His research seeks to understand how and why employers adopt worker engagement practices to (i) develop people's knowledge, skills, and abilities at work, (ii) provide opportunities for proactivity, flexibility and collaboration amongst workers, and (iii) ensure happier and more productive workers. Chidi's research has appeared in top-quality scholarly outlets such as Journal of Management, Human Resource Management Journal, Harvard Business Review, Journal of Occupational Health Psychology, and The International Journal of Human Resource Management. His work has led to participation in the Economist Intelligence Unit (EIU)'s expert panel on workplace health and wellbeing, and has generated considerable media interest: Business Standard, The National, Business News Daily, HRD Online, and The Siasat Daily.
Chidi has been involved in research that looks at the benefits of good people-management practices for performance and wellbeing in both private and public sector organizations. Good people-management practices typically encompass factors such as worker autonomy, participation in decision making, reasonable work demands, reasonable working hours, clarity of role, use of skills, task variety, workplace support and social contact at work. Chidi's research in this area relates to the Work, Learning and Wellbeing evidence programme, part of the Economic and Social Research Council funded What Works Centre for Wellbeing. The programme brings together the best evidence on what works to improve the wellbeing of people, workplaces, and communities across Britain.
Chidi is interested in collaborating with academics and industry experts in employment relations, job quality, and wellbeing, and would like to establish a mutually supportive network of human resource management researchers and practitioners. He is also interested in PhD applicants who wish to study the role of progressive workplace practices in improving the overall quality of work, and developing workers' skills, well-being, and performance.