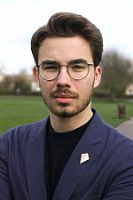 Mr
Jakub Polansky
Biography
Jakub Polansky is currently working as a Visiting Doctoral Researcher and Senior Teaching Assistant of Economics at the School of Arts and Sciences at the University of Central Asia in Khorog, Tajikistan. At his alma mater, Jakub is affiliated with the Department for International Development at the School of Global Studies and the Science Policy Research Unit. In this capacity, Jakub is studying the socio-economic impact of cross-border markets along the Afghan-Tajik border in the Pamir mountainlands under the supervision of Magnus Marsden and Tommaso Ciarli. Beyond his doctoral research, Jakub is working jointly with Elena Nikolova at University College London on a research project related to the relationship between conversionary Protestantism and democracy, as well as on a scoping study on the female labor market in East Asia.
Jakub Polansky graduated from Amsterdam University College in economics and law, and obtained a master's degree in economics from the School of Slavonic and East European Studies at University College London. He also studied at Al-Farabi Kazakh National University in Almaty as an undergraduate exchange student and completed two summer school programs at Sciences Po, Paris. For his bachelor's thesis on systematic risk factors related to direct residential mortgage investments in Dutch pension fund portfolios, Jakub received the Netspar Thesis Award for the outstanding contribution to the understanding of the financing of old age and aging in the Netherlands. During his graduate studies, Jakub shifted his academic focus from macroeconomic stability to economic development and researched the impact of electrification on living conditions and gender equity in north-eastern Afghanistan for his master's thesis. Using novel microdata, Jakub evaluated changes in the spheres of health, education, economic opportunities and social life, and highlighted the potential for hydropower cooperation in Central Asia. In the recent past, Jakub presented his research at numerous conferences, including Connecting Central Asia in the 21st Century at St. Antony's College; the 13th Humanities and Social Sciences Conference at LUMS in Lahore, Pakistan; and the World Mountain Forum in Bishkek, Kyrgyzstan.
Beyond his academic career, Jakub has extensive experience from both the public and private sectors. He worked as a consultant for the World Bank, and completed placements at the Dutch Central Bank, the commercial section of the Austrian Embassy in Kazakhstan, a boutique business law firm in Vienna, the global accounting department at IBM Holdings in the Netherlands, a student-run investment fund in London and an Austrian cooperative bank focused on ethical finance.
Jakub has also teaching experience, having designed the course syllabus and assessment criteria for an introductory International Development module which he subsequently delivered at the International Study Centre. In addition, he worked as a language instructor of German and English to under- and postgraduate students in London and Almaty.
Apart from his country of origin Slovakia, Jakub has lived, studied and worked in Austria, the Netherlands, France, U.K., Kazakhstan, Tajikistan and Afghanistan. He is fluent in six languages, has passive knowledge of further two languages and recently began training in Dari and Shughni. Jakub is passionate about rare foods, enjoys cooking with local families during his fieldwork and never misses an opportunity to learn traditional dances at weddings, national holidays or other cultural celebrations.
You can connect with Jakub on LinkedIn, follow him on Twitter, see what he is doing on Instagram, or write him an email.