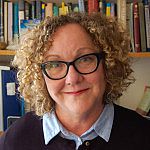 Dr
Jeri L. Damman
Biography
Jeri L. Damman has extensive social work practice experience in both the U.S. and England. Her experience includes working with children, adults, and families in direct service delivery, providing front-line social work supervision, and strategic service delivery at a senior management level.
Dr. Damman's cross-national experience of social work practice and her critical understanding of the social policies guiding this work provide her with a unique lens to examine social work service delivery and its impact on vulnerable populations. Her interest in how child welfare systems seek to engage with and involve birth parents is driven by these experiences. Dr. Damman's research addresses how participatory practices with birth parents at multiple levels in the child welfare system contribute to service improvements or reform, and ultimately positive child and family outcomes.
Dr. Damman received her PhD in Social Work from the University of Kansas, USA and her Masters in Applied Social Studies and Certificate of Qualification in Social Work (CQSW) from the University of Oxford, England.
Role
Lecturer, Department of Social Work and Social Care
MASW Course Lead