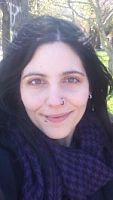 Miss
Aikaterini Gialopsou
Post:
Doctoral Tutor (Mathematics)
Other posts:
Research student (Physics and Astronomy)
Research Student (Atomic, Molecular and Optical Physics Research Group)
Location:
ACCELERATOR SPQR Sussex Innovation Centre
Email:
A.Gialopsou@sussex.ac.uk

Telephone numbers
Internal:
8718
UK:
01273 678718
International:
+44 1273 678718
download vCarddownload vCard to your mobile
Biography
My research focuses on MEG brain imaging techniques using optically-pumped magnetometers (OPMs) as alternatives to SQUIDS.
I obtained MSc degree in "Bioinformatics and Neuroinformatics- Comptutaniolan Neuroscience" at Ionian University, Corfu, Greece and the BSc in Engineering Informatics at TEI of Central Macedonia, Serres, Greece.
MSc's Dissertation: Functional plasticity in the aging brain
BSc's Dissertation: Digital Book of Advanced Mathematics, in C sharp.
I was a tutor in Software Engineering and Tourism Informatics at Public Institute for Vocational (Corfu, Greece). I also taught Computing (A Level) and Algebra, and Geometry at a Private Learning Institute of Corfu.
Role
PhD student